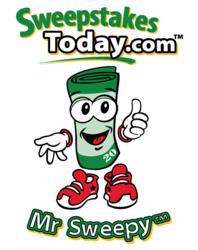 (PRWEB) July 05, 2012
When Beverly O'Ferrall took advantage of SweepstakesToday.com's (http://www.sweepstakestoday.com) always free membership she had no idea she'd become not only a big winner but a consistent one as well. By the end of June, she was riding a streak of over 30 (sweepstakes) wins in 90 days.
She joined the popular sweeping site in September of 2009; in May of 2011 she became a member of the site's prestigious 10K Club with the win of a Rinnai Tank-less Water Heater, (headquartered in Atlanta, GA) and $10,000 in cash.
Her winning streak has continued and by the end of June she had racked up over 30 prizes in 90 days.
"I don't know if this is exactly a record, "site founder and CEO Craig McDaniel (aka Mr. Sweepy) said recently, "but Beverly sure demonstrates that the best way to win is to enter."
"I learned to enter the small contests as well as the big ones," O'Ferrall said in an interview today, "that way the small prizes keep coming in which keeps me motivated. Even a $5 gift card is exciting to win."
Asked what she liked about the popular sweepstakes site she said, "Because it helps me organize my sweeps. It's a real cool website and offers a complete experience with the forum and, of course, Mr. Sweepy. People celebrate when you win and Mr. Sweepy is supportive and helpful."
O'Ferrall is a retired kindergarten teacher who discovered sweeping in part when her grandson showed her how to find sweepstakes sites on line.
Sweepstakes Today LLC was launched online in March of 2004. The popular (giveaway sweepstakes) site is based in Tulsa, Oklahoma and the custom Microsoft ASP/ASPX programming development is done in Salt Lake City, Utah. The website has now published over 36,000 sweepstakes, contest and giveaways.