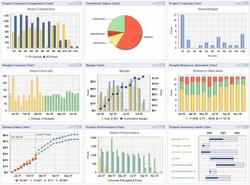 Fran Craig, Unanet CEO commented "We are excited to be working with Microsoft to deliver a complete project and financial management system for project-based organizations."
Sterling, VA (PRWEB) April 23, 2010
Unanet Technologies is proud to be attending Convergence 2010 Atlanta—the Premier Microsoft Dynamics Event from April 24 – 27, 2010.
Convergence 2010 offers attendees the opportunity to learn how to get the most out of their Microsoft Dynamics solution, network with Microsoft product experts, and get up to date with the latest products and technology.
Unanet will be presenting in the Independent Software Vendor showcase on project management and resource forecasting solutions for Microsoft Dynamics SL. Unanet will be located at booth #127 with Plumbline Solutions and showcased as a Microsoft Dynamics SL solution.
Integrated with Microsoft Dynamics SL superior Project Accounting & Core Financial Accounting Package, the Unanet-MS Dynamics SL combined solution offers project-based organizations unique capabilities in optimizing project performance. In a recent joint marketing campaign, 147 organizations registered to learn more about the integrated solution of Unanet and Microsoft Dynamics SL. The integration ensures a single point of entry for data on projects and people with no duplication of effort, with automatic replication between Unanet and MS Dynamics SL to ensure data integrity between the systems.
Unanet's Professional Services Automation software offers: Planning and Forecasting with Bottom-Up Budgeting; Real-Time Project Management, Dashboards and Reporting; Resource Scheduling/Planning and Forecasting by Availability and Skills; and Robust Timesheets and Expense Tracking.
About Unanet Technologies
Unanet provides superior Services Automation software which maximizes staff utilization, reduces administrative costs by 90%, improves invoicing by 10X, and supports forward decision-making for improved profitability. Unanet's 600 customers include government contractors, consulting/services organizations, internal IT (Information Technology), and high-technology product companies. Unanet's suite includes resource management, opportunity/project management, timesheets, expense reports and collaboration with real time information and analytics, easy to use interfaces, and outstanding support. Unanet is available either as an Enterprise license (self-hosted software), or the On Demand License (hosted Software as a Service (SaaS)).http://www.unanet.com.
# # #