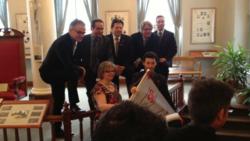 The tremendous work and commitment of the scientific community of Quebec is often recognized by the national committee
Sherbrooke, QC (PRWEB) April 16, 2013
Phenix Yoga is thrilled to announce that the studio's founder, Dr. Denis Gris, has been awarded a $293,061 grant by the Canadian Multiple Sclerosis Society to fund Dr. Gris' research into development of new therapies against MS as part of his work at the University of Sherbrooke, Quebec.
Multiple Sclerosis is a chronic disease, which disables the brain and spinal cord. One of the most common neurological disorders among young adults in Canada, MS currently affects over 22,000 Quebecers. The disease occurs most often in people between ages of 15 and 40. The prestigious grant awarded by the Canadian MS Society is part of the annual competition for scholarships and research grants.
"In research on Multiple Sclerosis, Quebec is a very fertile ground. The tremendous work and commitment of the scientific community of the province is often recognized by the national committee," said Louis Adam, Executive Director of the Quebec Division of the MS Society. Mr. Adam also took the time to introduce and promote the March D'éspoir, a fundraising event organized by Canadian MS society which will take place in Sherbrooke May 26th.
A Scientist
Dr. Denis Gris is an Assistant Professor at the Department of Pediatrics, Faculty of Medicine and Health Sciences, University of Sherbrooke, as well as a researcher at the Clinical Research Centre Étienne-Le Bel of the University Hospital Centre in Sherbrooke. Dr. Gris' primarily focuses on pathological immune mechanisms of neurodegeneration and neuroinflammation. The main objective of his scientific research in the field of Multiple Sclerosis is to discover what would protect cells against chronic inflammation of the central nervous system.
A Teacher and Tai Chi Practitioner
Aside from conducting innovative research in the field of MS, Denis Gris is an avid practitioner and teacher of Tai Chi at Phenix Yoga, a yoga and Tai Chi studio that he has founded together with his wife, Katya Gris, in Sherbrooke in January 2013.
"In my practice of Tai Chi, I try to blend together Western scientific knowledge of the body with Eastern esoteric teachings about Chi to create a truly healing fitness experience that helps us to stay relaxed and calm through fast-paced contemporary life," said Dr. Gris.
Tai Chi is an ancient martial art known for defense training and health benefits; it focuses on relieving physical effects of stress on the body and mind. Tai Chi capitalises on exercises that improve control of movements and respiration thus improving endurance, coordination, and sense of balance.
**
To learn more about scientific work and research conducted by Dr. Denis Gris at the University of Sherbrooke, please visit http://www.neuroimmunology.ca.
For information about Tai Chi classes that Denis Gris teaches at Phenix Yoga, please visit http://www.phenixyoga.ca