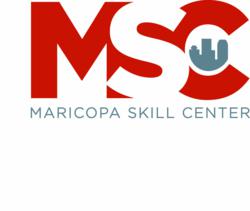 Besides having knowledgeable instructors and community partnerships, students should enjoy being on campus, since most of our students spend 30 hours per week at MSC. --Ellen Gallagher, Director of Instruction at MSC
Phoenix, AZ (PRWEB) October 10, 2012
Maricopa Skill Center (MSC), a workforce training school within the Maricopa County Community College District (MCCCD), will celebrate the grand re-opening of its newly remodeled and expanded campus in Central Phoenix on October 29.
The remodel began in June 2011 and took place in multiple stages to allow MSC to remain open during construction. MSC offers certificate programs that train students for careers in the areas of Business and Technology, Cosmetology, Health Care and Trades.
Working with Jokake Construction and Gould Evans, MSC transformed its campus into a more spacious and inviting place. MSC added a new 17,000 sq ft building to house its student union and community rooms. The existing building was built out to add more program space, as well as update existing program areas.
The finished campus includes more windows to add natural light, larger work and program areas for staff and students, a one-stop Student Services department, lounge areas with large screen televisions, and an outside courtyard with trees and benches. The overall look is modern, welcoming and conducive to learning and growth in programs at MSC.
Ellen Gallagher, director of Instruction at MSC, feels that the campus' new look better reflects MSC's mission, which is to offer training to students that meets the current and evolving needs of the workforce. "We want to offer our students the best experience and training we can," Gallagher said. "Besides having knowledgeable instructors and community partnerships, students should enjoy being on campus, since most of our students spend 30 hours per week at MSC. With the remodel, we have been able to create an engaging environment for all. We look forward to sharing it with the community."
This major construction project was made possible by a bond passed by voters in 2004. The bond's purpose was to support the growth of MCCCD to help it better serve the community.
MSC's grand re-opening celebration of its newly remodeled 85,000 square foot campus will take place Monday, Oct. 29 from 10:00 – 11:00 a.m.
The Maricopa Skill Center is located at 1245 E Buckeye Rd., Phoenix, AZ 85034.
Tours of the new campus will be available, including the Health Care lab, Meat Cutting shop, Cosmetology salon, and Student Services one-stop, along with interviews from MSC representatives, Maricopa Community Colleges, Jokake Construction, Gould Evans, and MSC students.
About Maricopa Skill Center
Maricopa Skill Center has been the Valley's leading workforce development center since 1962. Through education and training, MSC graduates possess the industry-identified skills necessary to achieve long-term economic independence. MSC offers a variety of certificate programs for careers in business, technology, health care, and trades, most of which can be completed in less than a year. Small class sizes, self-paced learning, and hands-on classrooms are just a few of the benefits of training at MSC. MSC is a division of GateWay Community College and a part of the Maricopa County Community College District.
About Jokake Construction
Jokake Construction is a full-service general contractor that delivers an exceptional construction experience to its clients through ground-up, renovation and tenant improvement construction. The company is 100% employee-owned and focused on occupied construction in several key growth industries, providing all the capabilities of larger contractors with a uniquely personal, flexible and cost effective approach.
About Gould Evans
Gould Evans is a design and planning firm whose principals and associates are united around a common vision: to create experientially-rich spaces with positive and measurable outcomes, impacting their clients' lives every day. Their portfolio is diverse, encompassing higher education projects, civic buildings, cultural institutions, athletics facilities, workplaces, environmental branding and urban planning. Gould Evans' designs have garnered local, regional and national awards for their sensitivity to people and place. With more than 110 associates across studios in Kansas City, Lawrence, San Francisco, Tampa and Phoenix, Gould Evans combines the responsiveness and sensibility of their 18 local designers with additional resources of a national practice.