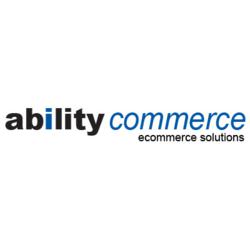 "Ability Commerce has always been committed to software excellence, and earning the Certified for Microsoft Dynamics designation is a reflection of that commitment,"
said Diane Buzzeo, CEO, of Ability Commerce.
Delray Beach, FL (PRWEB) February 21, 2013
Ecommerce software developer, Ability Commerce announced today that its Ability Dynamic Integration (ADI) software that facilitates the flow of data between an Order Management System and MS Dynamics GP is now Certified for Microsoft Dynamics, which signifies that the solution has met Microsoft's highest standard for partner-developed software. By successfully meeting all certification requirements, ADI can now carry the distinct Microsoft Dynamics® logo.
Solutions that are Certified for Microsoft Dynamics have demonstrated development quality and compatibility with the Microsoft Dynamics product on which it runs by passing rigorous VeriTest software solution testing. VeriTest, a service of Lionbridge, performed independent and rigorous testing on the solution's integration with Microsoft Dynamics. In addition, the Microsoft partner must have at least ten customers who are successfully using the certified solution and are willing to recommend, be enrolled in a Partner Service Plan with Microsoft, and be an ERP Silver Partner in the Microsoft Partner Network.
"By requiring both the software solution and the partner to meet our highest standards, Microsoft is assuring customers that these certified solutions work with their investments in Microsoft Dynamics," said Doug Kennedy, vice president, Microsoft Dynamics Partners. "Microsoft congratulates Ability Commerce on achieving this status by demonstrating its success and commitment in delivering a leading Microsoft Dynamics solution."
Ability Dynamic Integration updates Microsoft Dynamics GP General Ledger, Payables Management, and Bank Reconciliation modules directly from order management system data files to eliminate errors and manual data entry. Multi-channel retailers in particular have the need to harness the power of their financial management system's business logic engine, giving them the reporting, analytics, accounting, integration, third party module interfaces and compliancy needed for the business.
Ability Commerce provides implementation, training and consultation for small, midmarket and corporate businesses using the Dynamics GP business applications. Ability Commerce also specializes in designing, developing and deploying ecommerce solutions for multi-channel retailers, in addition to their 13 year history as a Microsoft Dynamics GP Reseller. Ability Commerce solutions help leading global companies achieve success.
"Ability Commerce has always been committed to software excellence, and earning the Certified for Microsoft Dynamics designation is a reflection of that commitment," said Diane Buzzeo, CEO, of Ability Commerce.
About Microsoft Dynamics
Microsoft Dynamics is a line of financial, customer relationship and supply-chain management solutions that helps businesses work more effectively. Delivered through a network of channel partners providing specialized services, these integrated, adaptable business management solutions work like and with familiar Microsoft software to streamline processes across an entire business.
About Ability Commerce
Ability Commerce is a leading provider of business and ecommerce solutions, including its highly acclaimed SmartSite™ , which allows online retailers to have a custom designed site, with the features and functionality needed to sell products online. SmartSite is built affordably, on a .NET-based framework. SEO considerations are built into the taxonomy as well as other SEO based controls that provide a flexible, scalable solution to drive traffic, increase conversions and retain shoppers.
For more information about Ability Commerce ecommerce software, visit the Ability Commerce website or call 561-330-3151 (in the UK 0845.308.2518) or email sales(at)abilitycommerce(dot)com.
About Lionbridge
Lionbridge Technologies, Inc. is a provider of globalization and offshoring services, including VeriTest software testing services. Based in Waltham, Mass., Lionbridge maintains solution centers in 26 countries and provides services under the Lionbridge and VeriTest brands. To learn more, visit http://www.lionbridge.com.
# # #
The names of actual companies and products mentioned herein may be the trademarks of their respective owners.