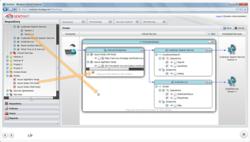 "Sentinet provides a jaw-droppingly powerful services management platform," says Kevin Barnes Managing Partner of eCube. "MSE migration with Sentinet will be a key part of our business in 2012."
Houston, Texas (PRWEB) February 03, 2012
eCube Systems, LLC, a leading provider of middleware modernization, has been designated a Nevatech technology reseller and consulting partner. eCube will provide Sentinet implementation and consulting services, with a special focus on Microsoft Managed Services Engine (MSE) migration and legacy integration.
eCube Systems is committed to simplifying MSE replacement using the advanced features of Sentinet, the next generation service virtualization platform from Nevatech. As an authorized reseller and implementation partner, eCube helps companies smoothly replace MSE with zero impact to operations, enhanced flexibility and new security, monitoring, auditing and reporting capabilities.
"MSE migration with Sentinet will be a key part of our business in 2012," says Kevin Barnes Managing Partner of eCube systems. "We also plan on using Sentinet to extent the life of our customer's important distributed systems by adding a seamless transition path to the world of SOA, Web Services and API's. Sentinet provides a jaw-droppingly powerful services management platform that simplifies how services are secured, interconnected and managed."
"We are happy to add eCube Systems to our family of technology partners," said Andrew Slivker, CEO of Nevatech." eCube's expertise in middleware migration and integration will provide a valuable addition to the third-party consulting services Sentinet users can depend on."
eCube has been helping customers in the health insurance space take absolutely mission-critical distributed apps running on important but older middleware and "up-vert" them to newer technologies. Examples include moving Entera and DCE applications to updated middleware and the integration of CORBA middleware with .NET and other SOA platforms.
eCube is committed to helping Nevatech develop ways to apply the enterprise-class capabilities Sentinet offers to emerging technologies, such as node.js. eCube will work to extend Sentinet's capabilities to meet customer's needs in community, social and API management, by building custom user interfaces on top of the Sentinet core engine.
Combining the Sentinet platform with eCube's expertise in middleware integration makes it possible to leverage CORBA and other legacy RPC middleware services as full-fledged managed SOA services. Advanced security, service virtualization, auditing and deployment models for on- premises and cloud implementations are now available for legacy CORBA, DCE and Entera/RPC applications.
For more information on MSE replacement visit: http://www.ecubesystems.com/managed-service-engine-replacement.html
About Sentinet
Nevatech Sentinet™ is a flexible, lightweight and scalable SOA and API Management platform that promotes integration through the use of SOA standards. It is designed to connect, mediate, secure and manage interactions between services across the enterprise or in the cloud.
About Nevatech
Nevatech, a Microsoft Certified ISV Partner, is an innovative provider of SOA and API Management infrastructure and tools for integrated on-premises, cloud and hybrid solutions and environments. Fortune 1000 companies use Nevatech products to ensure their services and applications are connected, secured and monitored. Nevatech Sentinet platform enables organizations and development teams with reliable, secure and faster time to market SOA and API products and services.
About eCube Systems
eCube Systems offers a family of legacy middleware evolution products and services that maximize return on technology investment by leveraging existing technical equity to meet evolving business needs. Fortune 1000 companies and government agencies turn to eCube Systems to reduce risk, extend ROI, and increase productivity as they consolidate existing capabilities and evolve legacy systems to contemporary SOA platforms.
eCube Systems, LLC, is headquartered in Montgomery, Texas, with marketing offices in Boston, MA and R&D in Montreal Canada. For more information, contact eCube Systems on the World Wide Web at http://www.ecubesystems.com, or by calling 866. 493.4224, Ext 3.
###