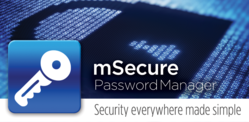 "The app market for Small-to-Medium Businesses (SMB) is growing very quickly and we are pleased mSecure products have been certified by AT&T for their business customers." said Ray Marshall, President, mSeven Software
Portland, OR (PRWEB) March 29, 2012
mSecure Password Manager for Android and iOS has been certified for AT&T phones and listed in the AT&T Certified Solution Catalog. During the app certification process, AT&T employs an independent test lab to test mSecure using a rigorous quality assurance process to ensure a positive experience for their business customers.
"mSeven Software is proud to partner with carrier partners like AT&T." said Ray Marshall, president of mSeven Software. "The app market for Small-to-Medium Businesses (SMB) is growing very quickly and we are pleased mSecure products have been certified by AT&T for their business customers."
About mSecure
mSecure for iOS is available via the iTunes App Store as a Universal app for iPhone, iPad and iPod Touch for $9.99. mSecure for Android is available for $9.99 in the Google Play marketplace, Amazon App Store and Nook Store.
mSecure for Mac OS is available in the Mac App Store and mSevenSoftware.com, where mSecure for Windows is also available, both for $19.99 each. A $5 off coupon for mSecure MacOS/Windows is available to mSeven Software Facebook fans (not applicable on Mac App store). Details on this special offer can be found on the company's Facebook page at facebook.com/mSevenSoftware.
mSecure continues to be held out as an industry-standard in password and personal information protection for mobile and computing devices. mSecure uses ultra-secure 256-bit Blowfish encryption to protect personal information such as account numbers, usernames, passwords and more. mSecure provides seventeen popular personal information templates with the ability to create custom templates to facilitate easy entry of user information.
About mSeven Software
Based in Portland, Oregon, mSeven Software has developed and supports mSecure and several other applications for the iOS, Android, Mac OS and Windows platforms. As a leader in the productivity category, mSeven Software operates on the principle that useful software is "made simple for everyday users."
For more information / Reviewers kit (press only):
Contact: David Pfeiffer
Phone: 262-968-1940
Email: dave(at)msevensoftware(dot)com
Web: http://msevensoftware.com
Google, Google Android, Apple, iPhone, iPad, iPod and Windows are either registered trademarks or trademarks of Google, Apple and Microsoft Corp. respectively in the United States and/or other countries.
###