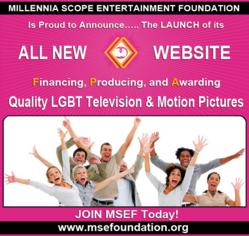 Celebrating the LGBT Community through Television and Film
North Hollywood, CA (PRWEB) October 08, 2012
Millennia Scope Entertainment Foundation (MSEF), a 501(c)3 non-for-profit organization, is proud to announce the launch of its official website http://www.MSEFoundation.org worldwide. MSEF mission: to celebrate the Lesbian, Gay, Bisexual, and Transgender (LGBT) community through Television and Motion Pictures by Financing, Producing, and Awarding quality, diverse, non-stereotypical LGBT Video, Television, and Film.
MSEF will become a new, entertaining, and interactive experience for our followers and readers and a useful resource for Independent Filmmakers, Writers, and Directors of quality LGBT Television and Film. No other resource like it exists!
The website will offer many resources:

Enjoy the latest LGBT Entertainment
Interactive Top Ten Videos
Submit your favorite LGBT video and movie clips to our Viewers Choice
Participate in voting for nominees for the LGBT Television and Motion Picture Awards
Apply to MSEF's LGBT Writer's Room
Independent filmmakers will enjoy our film grants and competitions
Gain insight into film projects under development internally
Donate to the Foundation
Sign up to become a member
Provide feedback to help make the website exciting for you
Socially network with other on MSEF members on Facebook and Twitter
And more!
Why did we create MSEF? To encourage and develop quality and non-stereotypical LGBT television and film that represents our community. The American LGBT community represents approximately 8% - 10% of the population. At this percentage, 30 million people openly identify as LGBT, and over 25 million acknowledge same-sex attraction. The average annual household income of the LGBT community is $81,500 – nearly 80% above the average U.S. household income. Television and Film projects collectively account for less than 1.5% of all media programming. We must do better!
For more information and how you can become a part of this amazing organization, visit us at:
http://www.MSEFoundation.org
Join us on Facebook: http://www.facebook.com/MSEFoundation
Join us on Twitter: https://twitter.com/msefoundation