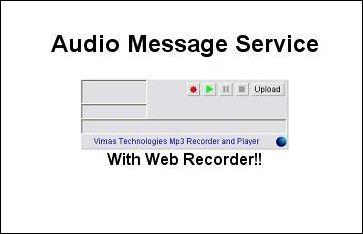 Dallas, TX (PRWEB) January 18, 2007
New services and implementations for http://www.msg-time.com are disclosed. The information includes, new web services implemented for users to take advantage of sharing audio on the web, new payment plans for paying customers to enjoy enhanced functionalities of the msg-time.com service, and upcoming deals, partnerships, and future enhancements for the http://www.msg-time.com server.
An Online Audio Message service, lets anyone with Internet access hear voice or audio recorded messages anytime and anywhere in the world.
Users may email voice messages, leave them on a personal webpage or community website, or promote themselves or their interests. An audio message can easily supplement blog content by adding a voice to the feelings behind the words. Visit http://www.msg-time.com and easily register to begin leaving audio messages anytime and anywhere online for free.
http://www.msg-time.com now features online audio recording capabilities, and integration with major social networking sites. There are many more integrations planned in the future. Visit http//msg-time.com to keep updated.
Businesses:
Here is an opportunity to advertise to customers with a more personalized touch. Let website visitors hear the people or voice behind the business. Audio advertisements provided by MSG-TIME.COM, give businesses a chance to better welcome a customer, let them understand services provided, and keep customers loyal and coming back for more. Let msg-time.com host audio messages on the business website or have msg-time.com place an audio ad directly on the msg-time.com Member Page and bring msg-time.com traffic to the advertised site of business. To take advantage of msg-time.com services, please email us at business [at] msg-time [dot] com with Company Name, Website URL, Email, Phone, Country, Industry, A Company Description, and a Decision Timeframe.
http://www.MSG-TIME.COM is a tool provided for web users to communicate to each other through audio messages. Upon successful registration, the user is provided with an easy to use, self explanatory way of recording audio for placement and use on the World Wide Web.
For more information contact
Tony Griffith, Kansas State University ALUM and Creator of MSG-TIME.COM
EMAIL: Business[ at ]msg-time[ dot ]com
PHONE: 972-352-9723
###