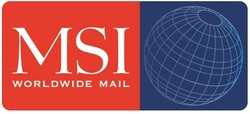 Security and expedited delivery are both top priorities of MSI, The certification of our Wood Dale, IL facility enhances our ability to achieve these objectives
Chantilly, VA (PRWEB) March 3, 2011
MSI Worldwide Mail, an international and domestic mailing company, today announced its mail processing facility in Wood Dale, IL has received approval by the Transportation Security Administration (TSA) to operate as a Certified Cargo Screening Facility (CCSF). MSI was accepted into the TSA's Certified Cargo Screening Program (CCSP) in July of 2010.
As of August 2010, under the 9/11 Commission Act, 100 percent of all air cargo originating from the United States is required by law to be screened at a piece level prior to transport on a passenger aircraft. The TSA developed the Certified Cargo Screening Program (CCSP) to provide approved freight forwarders and shippers with advanced cargo screening credentials to assist the US government in reaching the 100 percent cargo screening mandate. The CCSP serves to reduce the security threat to airline passengers by facilitating a piece level scan prior to transport. The result for CCSP members like MSI is a heightened level of security at the point of processing, decreased screening backlog at airports and shorter transit times for its customers.
MSI continues to work closely with the TSA to ensure its facilities are equipped with advanced screening technology and that its staff is adequately trained in TSA standards. The certification of MSI's Sterling, VA and now Wood Dale, IL facilities results in a more secure and expedited processing of international mail and parcels and overall increased safety of the traveling public.
"Security and expedited delivery are both top priorities of MSI," said Richard Gerhardt, President and Chief Operating Officer, MSI Worldwide Mail. "The certification of our Wood Dale, IL facility enhances our ability to achieve these objectives."
About MSI Worldwide Mail:
Headquartered in Sterling, Virginia, MSI is a mail and parcel distribution company with projected sales of $50 million in 2011. MSI's team of international and domestic mail professionals have decades of experience in the mail and parcel distribution industry. MSI has 12 sales offices throughout the US and Canada and operates processing facilities in Sterling, VA, Chicago, IL, Toronto, Ontario and London, England.
In January 2010, Belgian postal operator bpost purchased a majority of MSI's outstanding shares and through its business unit, bpost international, partnered with MSI to further expand its retail operations in the US and worldwide.
bpost international manages international mail and parcel distribution for the bpost service providing excellent and profitable services to customers in Belgium and abroad. bpost international is dedicated to providing a range of international mail and parcel services whose excellence is universally recognized by the customers of bpost.
###