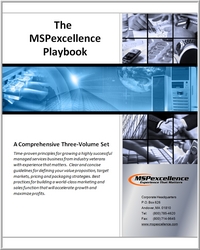 The days of selling cloud-based services with predictable monthly charges are here. The challenge for the VAR is to make this transition before it's too late. The challenge for the MSP is to scale their business cost-effectively.
Andover, MA (PRWEB) September 21, 2010
MSPexcellence, a provider of business building strategies, tools and services for Managed Service Providers (MSPs), today announced comprehensive programs to enable MSPs to grow their business and establish market leadership. MSPexcellence addresses the market requirement for programs that enable an industry shift from the "break-fix" model of traditional Value Added Resellers (VARs) to the more customer friendly and cost-effective model of the MSP. The centerpiece of the MSPexcellence business-building program is The MSPexcellence Playbook™, a detailed 3-volume guide for establishing or enhancing the sales, marketing and profitability of a managed services business that delivers virtually any form of managed service offering.
The playbook embodies more than 50 years of collective experience including 20 years of direct MSP experience brought by the company's two founders, Todd Hussey and Dave Zwicker. Together, these industry veterans bring executive level backgrounds from multiple global MSP software companies and venture backed start-ups where they launched successful business-building programs to hundreds of MSP partners around the world. Hussey and Zwicker have translated their experience into a success template for MSPs that is easy to follow, cost-effective to implement and focused on tangible business results.
According to Todd Hussey, MSPexcellence co-founder, "there are 100,000 VARs in the North American market and only 10% of them have made the transition to an MSP. The days of selling technology managed by customers are numbered. The days of cloud-based services with predictable monthly charges are here. The challenge for the VAR is to make this transition before it's too late, and without putting their legacy business or future MSP business at risk. The challenge for the MSP is to scale their business cost-effectively."
The MSPexcellence Playbook eliminates this risk with a proven formula for building managed services revenue. The playbook combines:

A strategy for defining the value proposition for target market segments
Easy-to-follow guides for developing content-rich lead generation programs
Templates for effective sales tools that ensure consistent sales execution.
"Todd and I understand technology and we have seen every conceivable approach to high tech sales and marketing over the years. We know what works and we also know what doesn't work," said Dave Zwicker, company co-founder. "Our goal was to create the definitive roadmap for navigating a fast track to an MSP business with clear and complete worksheets that allow the MSP to ensure their own success. We are a business enabler and a growth accelerator working with MSPs and their technology suppliers."
MSPexcellence is developing partnerships with both vendors and their MSP partners. Working with vendors, the company tailors The MSPexcellence Playbook to reflect their specific technology and to complement their go-to-market initiatives with MSP coaching services. One of those partners is Asigra, a leading cloud backup and recovery software provider based in Toronto, Ontario. Since 1986, MSPs have delivered cloud backup services Powered by Asigra to support multi-billion dollar enterprise accounts as well as small- to mid-sized companies in a wide variety of market segments. In addition to their role as a technology provider to MSPs, Asigra is also a vital business advisor, supporting their MSPs in all areas of the business. To that end, they have engaged with MSPexcellence to provide customized sales, marketing and business planning services for their channel.
"Our MSP partners value programs that are holistic, assisting them in all phases of the business from pricing and packaging to lead generation and sales execution. MSPexcellence has developed a program that integrates these critical business building strategies and presents them as a simple and practical methodology for helping Asigra partners to grow their customer base which is fundamental to our success," said Amrita Chandra, Senior Director of Marketing for Asigra. In the first phase of this program, MSPexcellence will conduct a series of webinars designed to lay a foundation of basic concepts and provide individualized coaching services for partners based on their specific needs."
The MSPexcellence Playbook will be available for purchase as a three volume set for $2,500 with an optional monthly fee of $150 to join the MSPexcellence Forum, a subscription service that includes a weekly newsletter and a monthly webinar series with topics derived from The MSPexcellence Playbook. The subscription also provides future updates to the playbook at no additional charge. The MSPexcellence Playbook will be available in October 2010 and can be purchased directly from the company's website.
For more information please visit http://www.mspexcellence.com.
About MSPexcellence
MSPexcellence is a provider of business building strategies, tools and services for managed service providers and their technology suppliers. The company was founded by Todd Hussey and Dave Zwicker who bring unparalleled industry experience to the MSP business services landscape in the form of technology messaging and positioning, pricing and packaging strategies, go-to-market planning, content-driven lead generation programs, effective sales staffing and management of the sales process. This experience is embodied in the industry's most complete compilation of MSP best practices, The MSPexcellence Playbook, an easy-to-use guide for building a successful MSP business. More information about MSPexcellence and The MSPexcellence Playbook is available at http://www.mspexcellence.com.
# # #