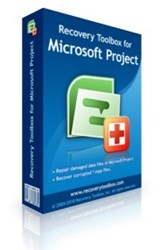 a totally revamped and largely improved tool for MS Project recovery.
Alexandria, VA (PRWEB) November 27, 2012
The newest product from Recovery Toolbox, Recovery Toolbox for Project is a highly-focused data recovery solution offering outstanding performance and accuracy of MS Project recovery combined with remarkable ease of use, compact size and accessibility to a wide range of users, from IT professionals with years of experience to novices facing the problem of a damaged MS Project *.MPP file. Due to the importance of project files for companies using MS Project on a regular basis, the proprietary recovery engine of Recovery Toolbox for Project handles damaged MPP files with maximum caution and cannot damage them in any way, leaving users the possibility of resorting to alternative recovery methods. In case the program fails to recover data from a damaged MS Project file, the user can send it to the program developers for in-depth analysis and manual recovery.
The interface of the program uses a multi-step wizard that minimizes the risk of making a mistake and the time necessary for the user to go all the way from selecting a damaged file to seeing the recovery results.
"Microsoft Project is the number one project management and planning tool in thousands of companies around the world," says Victor Bobrov, Senior Product Manager at Recovery Toolbox. "When something goes wrong with an MS Project file, it jeopardizes the project itself, since the team becomes completely disoriented. Our tool helps minimize the down time and restore the normal execution of the project plan within minutes."
Product http://www.project.recoverytoolbox.com/
Home http://www.recoverytoolbox.com/