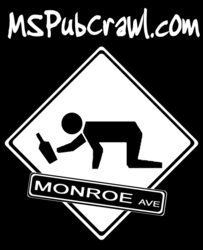 We are deeply appreciative of the generosity and support we receive from this innovative group. We admire their creativity and commitment and wish them great success
Rochester, NY (Vocus) April 1, 2009
Today, the MSPubCrawl confirmed the date of their 4th annual event to raise money for the Upstate NY Chapter of the National Multiple Sclerosis Society. The MSPubCrawl will be on Saturday, April 25th, along one of the main bar strips in Rochester, NY. The event starts at noon at Damian's Pub, and is open to anyone 21 years or older. From Damian's people will work their way down Monroe Avenue, visiting participating bars along the way, ten in total. To participate you just need to purchase an MSPubCrawl silicone bracelet – which you can find on mspubcrawl.com for $10 in advance, or at the door on April 25th for $15. In the previous three years attendance has grown from just over 300 people to close to 1000, and the donation tally has exceeded $30,000. The founders of the MSPubCrawl are hoping to exceed 1000 people this year, and raise over $15,000.
The MSPubCrawl was started by eight friends in 2006 to raise money for their MS Walk team. They formed a partnership with the local Budweiser/Michelob distributor, and worked with the bars in a popular nightlife area to offer drink and food specials to anyone wearing an MSPubCrawl bracelet on the day of the event. Bud Light and Michelob Ultra bottles were sold at every bar for $2, and some bars offered $2 well drinks and $2 specialty shots (specials that have stayed consistent and will be offered again at the 2009 event). They created a buzz through word-of-mouth and grassroots marketing efforts. Bracelets and t-shirts for the event were sold for $10 and the money was donated at the MS Walk the following weekend. A tradition had begun.
"We set out to create a new type of charity event. Not one that you attend because you feel obligated, but one that you actually want to go to. One that you circle on your calendar." said David Giunta, co-founder of the MSPubCrawl. "The turnout was overwhelming, and it gets better every year. We have people coming in to Rochester that weekend just for this event." To accommodate them The Strathallan, a local hotel in the heart of the city, has offered rooms that night to the MSPubCrawl attendees at a considerable discount. In fact many local businesses have gotten involved. The 2009 t-shirts were sponsored, and local radio advertising was donated. Giunta added that additional sponsors are always welcome, and that he is available to discuss options with anyone interested.
Getting a hotel in the area involved was just one step the MSPubCrawl took to ensure a safe event. All bars offer free soda to designated drivers, and the phone number to a cab company is handed out on a flyer at the first bar. "Given the nature of the event, we want to be sure that everyone makes it home, or wherever they are going, safely." reminds Giunta. "It's also important to keep in mind that it's not mandatory to drink alcohol at the crawl. Many people come to enjoy the atmosphere, meet new people, enjoy the food specials, and support the cause."
"We are deeply appreciative of the generosity and support we receive from this innovative group. We admire their creativity and commitment and wish them great success", said Upstate New York Chapter President and CEO Randal Simonetti.
If you'd like to learn more about the MSPubCrawl or make a donation, you can visit their website at http://www.mspubcrawl.com ], or e-mail David Giunta at mspubcrawl (at) gmail (dot) com.
About Multiple Sclerosis and The MS Walk
Multiple Sclerosis interrupts the flow of information from the brain to the body and stops people from moving. Every hour in the United States, someone is newly diagnosed with MS, an unpredictable, often disabling disease of the central nervous system. Symptoms range from numbness and tingling to blindness and paralysis. The progress, severity and specific symptoms in any one person cannot yet be predicted, but advances in research and treatment are moving us closer to a world free of MS. Most people with MS are diagnosed between the ages of 20 and 50, with more than twice as many women as men contracting the disease. MS affects more than 400,000 people in the U.S. and 2.5 million worldwide.
The Walk MS is the National MS Society Upstate New York Chapter's largest fundraising event of the year. The event is anticipated to raise over $1.6 million dollars across the state with 21 different Walk MS locations. Funds raised from the event are used to support research efforts and award-winning programs and services to over 12,000 individuals with MS and their families in Upstate New York.
# # #