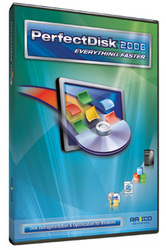 Mississippi State University Libraries adds to the long list of higher education institutions benefitting from PerfectDisk
Gaithersburg, MD (Vocus) May 14, 2008
Raxco Software, the leader in disk defragmentation software, announced today that Mississippi State University (MSU) Libraries has selected PerfectDisk® 2008 Server for its Windows® defragmentation. PerfectDisk 2008 provides MSU Libraries with automated defragmentation and free space consolidation capabilities that were unavailable with any other solution.
Prior to deploying PerfectDisk, MSU Libraries used the Windows built-in defragmenters on its Windows Server® 2003 and Windows Server 2000 systems. In this environment, defragmentation was done on a manual basis weekly and took roughly 8 hours to complete. PerfectDisk 2008 has allowed MSU Libraries to automate the entire process and reduce the rate of fragmentation with PerfectDisk 2008's Space Restoration Technology™, which completely consolidates free space.
"We have much-improved server performance since installing PerfectDisk 2008," said Bobby Goff, Web Services Specialist at Mississippi State University Libraries. "This improved performance helps our users work better, and this is achieved automatically, with minimal system overhead and easy management."
"Mississippi State University Libraries adds to the long list of higher education institutions benefitting from PerfectDisk," said Joe Abusamra, vice president of operations at Raxco Software. "We're happy that the Libraries' faculty, staff, student workers and students are all able to benefit from the improved system performance PerfectDisk provides."
About Raxco Software
Raxco Software has been helping large enterprises, small businesses, and consumers with their computer resource management needs for thirty years. Its PerfectDisk 2008 is Windows® Certified by Microsoft® for Vista and Windows Server 2008, and optimized for Windows XP. The PerfectDisk line has a long award-winning history, most notably its perfect 5-star review from CNET Download, winner of the Windows IT Pro Readers' Choice Awards for Defragmentation Utility and Storage Management Tool, Redmond Magazine's Best of the Best Award, and PC Magazine's Editors' Choice award. Raxco also produces optimization software, for HP's OpenVMS operating system. Raxco Software can be found on the Web at http://www.raxco.com.
Contact:
Sherry Murray
Raxco Software, Inc.
301-519-7836
smurray @ raxco.com
# # #