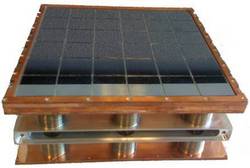 Austin, TX (PRWEB) March 30, 2011
Following a highly selective application and judging process, MTPV, LLC (http://www.mtpv.com) received the top award for their breakthrough technology for converting heat to electricity using semiconductor chips at the WBT Innovation Marketplace's ninth annual event. MTPV was selected from more than 100 companies and technology innovators from across the nation and around the world as they presented to hundreds of investors and corporate and national licensees at WBT2011. The event was held March 22 and 23 at the Sheraton Arlington Hotel and the Arlington, Texas Convention Center.
MTPV creates semiconductor chips that covert heat directly into electricity. Much like a solar panel will convert sunlight into electricity MTPV chips are able to convert any source of heat into electricity with breakthrough efficiency and power.
MTPV was also named "Best Venture" at the U.S. Department of Energy's National Renewable Energy Laboratory (NREL) 23rd Industry Growth Forum in October. The event attracted nearly 500 investors, entrepreneurs, scientists and policymakers. NREL is the U.S. Department of Energy's (DOE) primary national laboratory for renewable energy and energy efficiency research and development.
"It takes amazing dedication, commitment and resolve to take an idea that has never been proven, prove the science, and then scale to a commercial effort." said David Mather, President and COO of MTPV "To be recognized by such an esteemed audience and panel is quite an honor and great recognition for our engineers, researchers and founders that have worked so diligently to get us here."
WBT Innovation Marketplace is an annual forum offering a prescreened collection of companies and intellectual property emanating from top startups, universities, labs and research institutions from across the country.
"The Judging of each presenter is based on the overall market potential, technology strength, management team and value proposition." said, Executive Director, Amanda Radovic, WBT Innovation Marketplace. "We had so many interesting companies and technologies this year in addition to MTPV, including Grow Green Industries which placed second at the event and Women's 3D, Inc. which took third place. As with past WBT's, national investors, Fortune 1000 licensees, and all WBT2011 attendees engaged in two full days of content-rich sessions, an exhibitor showcase, and unparalleled networking at our deal-focused forum of emerging technologies."
All presenting companies and technologies had been rigorously vetted by WBT commercialization experts prior to presenting to an audience of more than 450 venture capitalists and Fortune 1000 licensees.
About MTPV, LLC
MTPV is a clean energy semiconductor chip company using its breakthrough technology to harness the world's waste heat and convert it to electricity. For more information, visit http://www.mtpv.com.
About WBT Innovation Marketplace
The WBT Innovation Marketplace is the world's premier showcase converging revolutionary new energy, life science, nanotech, material science and information technologies to seed limitless solutions for current market needs. For additional information, visit http://www.wbtshowcase.com.
###