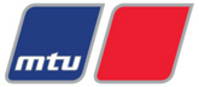 During the show, an MTU representative will participate in a panel discussion about predictive and preventive maintenance systems.
Detroit, MI (Vocus) November 18, 2010
MTU Detroit Diesel will feature three of its most popular marine engines – the Series 4000, Series 2000 and Series 60 – at the International WorkBoat Show, booth #621, in New Orleans, December 1–3, 2010. As part of the WorkBoat Professional Series, a representative from MTU will be participating in a panel discussion about predictive and preventive maintenance. MTU will also be highlighting its control systems, genuine parts and service products at the show.
The MTU family of engines for commercial marine applications includes the Series 4000, the Series 2000 and the Series 60 engines. On display will be the eight-cylinder Series 4000 "Iron Men" engine, which is EPA Tier 2-certified and covers a power range of 1,000 to 1,340 bhp (746–1,000 kW). As with the other configurations of the Series 4000, the 8V offers low fuel consumption, extended maintenance intervals and maximized availability and reliability. The Series 4000 engine is also available in 12V and 16V configurations, covering a total power range from 1,000 to 3,000 bhp (746 to 2,240 kW).
MTU will also be displaying its EPA Tier 2-certified Series 2000 engine as well as the Series 60 engine, which is also EPA Tier 2-certified and has long been a mainstay in the workboat market. The Series 2000 M61 is available in both 12V and 16V configurations and covers a range of 805 to 1,070 bhp (600–800 kW). MTU will also feature customer testimonial videos at the booth.
MTU Detroit Diesel's commercial marine sales manager, Jeff Sherman, will participate in a panel discussion on predictive and preventive maintenance as part of the WorkBoat Professional Series. The discussion will cover how preventive maintenance can benefit a marine operation, a discussion of tools of the trade and whether companies should purchase their own maintenance equipment. The panel discussion will be held on Thursday, December 2, from 2:30 to 3:30 p.m. in Conference Room A. A white paper by MTU on preventive maintenance will be available as a handout at the presentation.
Sherman works out of MTU's new Gulf Coast Sales and Operations Center in St. Rose, Louisiana, near New Orleans. This new office is the North American headquarters for MTU's commercial marine business. It is dedicated to serving commercial marine operators on the Gulf Coast and Inland Rivers.
About MTU
MTU Detroit Diesel, Inc., is the North American regional headquarters of MTU Friedrichshafen GmbH, one of the world's most important providers of diesel engines and drive and propulsion systems for ships, heavy-duty land and rail vehicles, and distributed energy. It offers a complete line of power solutions from 30 to 12,200 bhp (20 to 9,100 kW) for applications in the marine, rail, power generation, oil and gas, agriculture, mining, construction and industrial, and defense markets. MTU Detroit Diesel, Inc. is the sales and after-sales organization of the Tognum Group in North America. http://www.mtu-online.com
Tognum
With its two business units, Engines and Onsite Energy & Components, the Tognum Group is one of the world's leading suppliers of engines and propulsion systems for off-highway applications and of distributed energy systems. These products are based on diesel engines with up to 9,100 kilowatts (kW) power output, gas engines up to 2,150 kW, stationary fuel cells up to 345 kW and gas turbines up to 45,000 kW.
The product portfolio of the Engines business unit comprises MTU engines and propulsion systems for ships, for heavy land, rail and defense vehicles and for the oil and gas industry. The portfolio of the Onsite Energy & Components business unit includes distributed energy systems of the brand MTU Onsite Energy and fuel-injection systems from L'Orange. The energy systems comprise diesel engines for emergency standby power, prime power and continuous power, as well as cogeneration power plants based on gas engines, fuel cells and gas turbines that generate both power and heat.
In 2009, Tognum generated revenue of €2.5 billion and employs more than 8,700 people. Tognum has a global manufacturing, distribution and service structure with 27 fully consolidated companies, more than 140 sales partners and over 500 authorized dealerships at approximately 1,200 locations. The shares of Tognum AG (ISIN: DE000A0N4P43) have been stock-exchange listed since 2007 and are included in the MDAX.
###