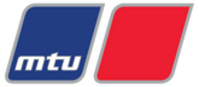 The seven-foot model visually demonstrates the intricate set up of a CODAG propulsion system.
Detroit, MI (Vocus) April 22, 2010
MTU, a leading provider of diesel engines and propulsion systems for many of the world's top navies, will showcase its CODAG capabilities at the Navy League Sea-Air-Space Exposition from May 3 - 5, 2010 at the Gaylord National Resort and Convention Center in National Harbor, Maryland. MTU will occupy booth #1202 in Hall D.
A seven-foot model visually demonstrates the intricate set up of a CODAG propulsion system. Although complex, the integration of the diesel engines and gas turbine provides unrivaled speed and flexibility for military vessels. The diesel engines allow the vessel to cruise economically at speeds in excess of 20 knots. When a faster response is required, the gas turbine engages to produce additional power enabling the vessel to reach speeds of 30 knots or more depending on the vessel size and type.
The Legend Class National Security Cutters, USCGC Bertholf and USCGC Waeshe, are examples of vessels that feature MTU's CODAG-propulsion system. All of the Legend Class Cutters will use two MTU 20V 1163 diesel engines and a GE LM2500 gas turbine combined through a custom made RENK gearbox driving a pair of controllable pitch propellers. The entire system is controlled and monitored using the MTU "Callosum" control system.
The Navy League's Sea-Air-Space Exposition is the largest maritime exposition in the world, featuring more than 150 defense industry exhibits and professional seminars with top civilian and military leaders from the U.S. Department of Defense, Homeland Security, Maritime Administration and the defense industry. This signature maritime exposition showcases national and international exhibits of the latest in sea power technology.
About MTU
MTU Detroit Diesel, Inc. is the North American regional headquarters of MTU Friedrichshafen GmbH, one of the world's most important providers of diesel engines and drive and propulsion systems for ships, heavy-duty land and rail vehicles, and distributed energy. It offers a complete line of power solutions from 30 to 12,200 bhp (20 to 9,100 kW) for applications in the marine, rail, power generation, oil and gas, agriculture, mining, construction and industrial, and defense markets. MTU Detroit Diesel, Inc. is the sales and after-sales organization of the Tognum Group in North America. http://www.mtu-online.com
About Tognum
With its two business units, Engines and Onsite Energy & Components, the Tognum Group is one of the world's leading suppliers of engines, propulsion systems and distributed energy systems. These products are based on diesel engines with up to 9,100 kilowatts (kW) power output, gas engines up to 2,150 kW, stationary fuel cells up to 345 kW and gas turbines up to 45,000 kW.
The product portfolio of the Engines business unit comprises MTU engines and propulsion systems for ships, for heavy land, rail and defense vehicles and for the oil and gas industry. The portfolio of the Onsite Energy & Components business unit includes distributed energy systems of the brand MTU Onsite Energy and fuel-injection systems from L'Orange. The energy systems comprise diesel engines for emergency standby power, prime power and continuous power, as well as cogeneration power plants based on gas engines, fuel cells and gas turbines that generate both power and heat.
In 2009, Tognum generated revenue of €2.5 billion and employs more than 8,700 people. Tognum has a global manufacturing, distribution and service structure with 25 fully consolidated companies, more than 140 sales partners and over 500 authorized dealerships at approximately 1,200 locations. The shares of Tognum AG (ISIN: DE000A0N4P43) have been stock-exchange listed since 2007 and are included in the MDAX.
###