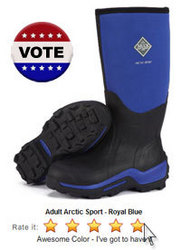 Voting empowers the customer. They help determine which styles become available.
Johnson City, NY (PRWEB) March 1, 2010
Muck Boots Online launches voting system that gives visitors to its site, the power to rate proposed new Muck Boot styles and colors scheduled for release in Fall 2010.
"We plan to make this the first of many voting options that will be open to the public," says Carol Yeager, President of Muck Boots Online. "We realize that our customer's opinions are the most important and would like to see them have a bigger role in the Muck Boot designs and styles that become available."
Some of the new styles debuted are bold, new colors for the very popular Arctic Sport Snow Boots and the Tack Classic Equine Boots. Everyone can rate each new color and leave feedback on what they think of the new colors. Voting empowers the customer. They help determine which styles become available.
"Customer input before manufacturing and retail purchase decisions are made, will help take the guesswork out of inventory planning," says Yeager. "Ultimately, the customer will determine what they like rather than selecting from colors and designs determined by others. It's a win-win situation."
Muck Boots Online is an independent retailer of boots from The Original Muck Boot Company and has established itself as the premier online source for Muck Boots. With many incentives such as it's Perfect Fit Guarantee, Mix and Match Savings, free shipping, free returns and exceptional service, customers are valued at Muck Boots Online.
Yeager says, "This type of customer interaction is a logical extension of our customer-focused websites. We continue to break new ground to provide customers with the absolute best shopping experience."
Muck Boots Online is one of several online stores operated by GEARCOR, Inc. While the site sells many brands of boots, socks and other accessories related to outdoor activities, the site's primary focus is The Muck Boot Company brand. All Muck Boots are 100% waterproof and lined with a breathable Airmesh lining to wick away perspiration creating a comfortable environment for your feet. Muck Boots have been tailored to meet a variety of different outdoor activities including: gardening, farm and construction work, fishing, hunting, equestrian pursuits, snowmobiling, hiking and everyday use.
For more information and to check out the new voting system please visit: http://www.muckbootsonline.com.
PRESS CONTACT
Carol R. Yeager
Muck Boots Online
GEARCOR, Inc.
http://www.muckbootsonline.com
1-800-517-5970
###