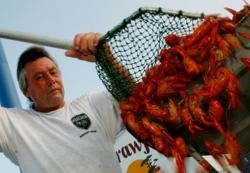 Shreveport-Bossier, LA (PRWEB) April 03, 2013
The 30th Annual Mudbug Madness Festival will take place on Memorial Day Weekend, May 23-26, in downtown Shreveport's Festival Plaza. The annual event, which is known for around-the-clock live zydeco music and Louisiana crawfish served every imaginable way, is recognized as one of the Southeast Tourism Society's Top 20 Events. Last year's Mudbug Madness Festival was attended by more than 200,000 guests who consumed more than 80,000 pounds of boiled crawfish. Special to this year's festival, organizers have announced a closing night fireworks show in celebration of the 30th anniversary milestone. The closing night fireworks show will take place at 8:45 p.m., Sunday, May 26.
In addition to hot, boiled crawfish and a variety of vendors selling Creole and Cajun cuisine, the 30th Annual Mudbug Madness Festival will feature three stages of live entertainment, crawfish eating and calling contests for all ages, street performers, children's activity areas, and a Louisiana arts marketplace featuring original paintings, carvings, jewelry and crafts.
Live music headliners on the MetroPCS Stage include Dwayne Dopsie & the Zydeco Hellraisers, Grammy Award-winners Terrance Simien & the Zydeco Experience, Amanda Shaw & the Cute Guys and Louisiana Music Hall of Fame members Wayne Toups & ZyDeCajun. The Swamp Stage will feature popular music acts from Shreveport-Bossier and the surrounding communities, including Trini Triggs, Bushrod Jenkins, Twang Darkly and Professor Porkchop & the Dirty Dishes. The Kids on the Bayou Stage will open at 11 a.m. each day and will feature clowns, kids' karaoke, singers, story-tellers, magic shows, hands-on art activities and a giant sculpture that kids can help create.
Admission to the festival is free until 5 p.m. on Thursday and Friday. After 5 p.m. Thursday and Friday and all day Saturday and Sunday, admission is $5 per person. Children under 12 and military with ID are free at all times. Free shuttle service is available from Mall St. Vincent and Pierre Bossier Mall. Mudbug Madness Festival is a presentation of Downtown Shreveport Unlimited, a non-profit membership organization which serves as an advocacy group for Downtown Shreveport. CenterPoint Energy will return for the 15th consecutive year as title sponsor of the event.
Group tour operators are encouraged to make early reservations. For more information and to learn more about including the Mudbug Madness Festival in your upcoming group tour, contact Erica Howard, tourism sales manager for the Shreveport-Bossier Convention and Tourist Bureau, at ehoward(at)sbctb(dot)org or 800-551-8682 ext. 104. For media inquiries and high resolution images, contact Deann Jewell, communications coordinator at djewell(at)sbctb(dot)org or (318) 429-0645.
# # #