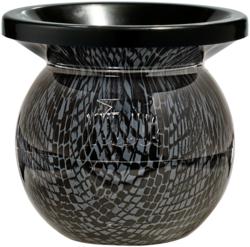 Many fishermen use Mud Jugs because the design prevents spills while rocking back and forth on a boat
Rancho Cucamonga, CA (Vocus/PRWEB) February 16, 2011
Although the football season is over, the big game of bass fishing, starts this weekend in New Orleans with the Bassmaster Classic on the Louisiana Delta. As avid anglers and followers of the sport, Mud Jug Portable Spittoons thought there was no better way to mark the event than by creating the new limited edition Fish Scales Mud Jug. With the Bassmaster Classic Outdoors Expo starting on Friday, Mud Jug Portable Spittoons are sure to be a hit with the bass anglers and fishing enthusiasts attending the event. "Bass fishing and dipping go hand in hand" says Mud Jug owner Darcy Compton. "Many fishermen use our product because the design prevents spills while rocking back and forth on a boat".
With fifty of the top anglers in the world, the Bassmaster Classic New Orleans also marks the introduction of many other new limited edition Mud Jugs. This new line of Mud Jugs includes the Red Boa Mud Jug as well as the Realtree AP Green Mud Jug, which any bass angler is sure to love. What fisherman and outdoor enthusiast does not like snakeskin or camouflage? Say goodbye to nasty spit cups and spit bottles. Now dippers don't have to worry about spilling on the boat or drinking from the wrong cup. Made of high impact injection molded plastic, the Mud Jug boasts a weighted base and easily removable, snap-fit funnel lid. Its ergonomic design fits securely in a hand and its innovative shape conceals odors and virtually eliminates spills.
The Limited Edition Fish Scales Mud Jug is available exclusively through Mud Jug's website. Although only available online at this time, plans are currently in the works to expand Mud Jugs into larger retail outlets. "One day major retail chains will realize that the smokeless tobacco business is a billion dollar industry. Then consumers will find Mud Jugs in major retail outlets" Compton says.
Don't weigh in short this fishing season; hook a Fish Scales Mud Jug Portable Spittoon.
About Mud Jug:
Mud Jug Portable Spittoons was founded in 2004 by innovator/owner, Darcy Compton. The goal was to provide smokeless tobacco consumers with a unique spitting solution. Hence, the spill-resistant, Mud Jug Portable Spittoon was born. Mud Jugs are proudly made in America.
For more information visit Mudjug.com
# # #