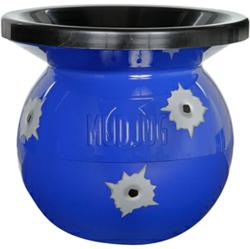 I strongly believe in our right to bear arms
Rancho Cucamonga, CA (PRWEB) April 27, 2011
The tumultuous battle between gun owners and anti-gun activists has long been a controversial subject with no end in site. The Annual National Rifle Association Exhibit starts this Friday and Mud Jug Portable Spittoon owner, Darcy Compton, wanted to do something special. "What better way is there to show our support for the NRA than to release a bullet hole Mud Jug design" Compton says, who is a long-time NRA member and is proud to say it. "I strongly believe in our right to bear arms", says Compton.
With a large percentage of current Mud Jug customers being hunters and gun enthusiasts, the release of the Bullet Hole Mud Jug was inevitable. Say goodbye to nasty spit cups and spit bottles. Now spit with accuracy and not worry about spilling or drinking from the wrong cup.
It seems as though many groups have an issue with gun ownership, but that didn't stop Compton from releasing this design. "The Bullet Hole Mud Jug helps us show our support for the NRA", says Compton.
Made of high impact injection molded plastic, the Mud Jug boasts a weighted base and easily removable, snap-fit funnel lid. Its ergonomic design fits securely in a hand and its innovative shape conceals odors and virtually eliminates spills.
Blue Bullet Limited Edition Mud Jugs are available exclusively through Mud Jug's website. Although only available online at this time, plans are currently in the works to expand Mud Jugs into larger retail outlets. 'One day major retail chains will realize that the smokeless tobacco business is a billion dollar industry. Then consumers will find Mud Jugs in major retail outlets' Compton says.
Don't miss the target; grab a Blue Bullet Hole Mud Jug Portable Spittoon.
About Mud Jug: Mud Jug Portable Spittoons was founded in 2004 by innovator/owner, Darcy Compton. The goal was to provide smokeless tobacco consumers with a unique spitting solution. Hence, the spill-resistant, Mud Jug Portable Spittoon was born. Mud Jugs are proudly made in America.
For more information visit Mudjug.com.
###