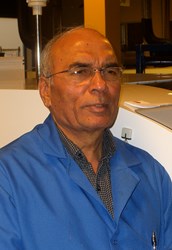 San Jose CA (PRWEB) November 21, 2013
NexLogic Technologies, Inc., a leading electronic manufacturing services provider announced the appointment of Mueed Khan as its new Director of Manufacturing. Mr. Khan comes to NexLogic with 19 plus years of manufacturing experience in the PCB and electronics industries.
Zulki Khan, President and Founder of NexLogic Technologies, Inc. said, "We are very pleased to add Mr. Khan (no relation) to our professional staff to lead our assembly and manufacturing processes, as well as help our customers find the right solutions and achieve their product goals."
Mr. Mueed Khan's assignments include technical customer interface, implementing customer requirements to include defining and auditing processes and defining technical responsibilities. He will also implement day-to-day IPC requirements for new assemblies, monitor, support, and maintain production equipment to a high-level of performance, and work with customers on new projects.
For over 18 years, Mr. Khan has a proven track record at leading electronic manufacturing services (EMS) companies including Director of Engineering at ISIS and Surface Mounting, both San Jose companies.
About NexLogic Technologies Inc.:
1995-2013 18th anniversary year
An ISO 9001:2008, ISO 13485 Certified, and RoHS compliant EMS provider,
NexLogic is a leading electronic manufacturing services provider that offers total integrated circuit board solutions. The company was established in 1995 and serves over 100 customers in North America. NexLogic's mission is to be the best electronic manufacturing partner and services (EMS) provider to the markets it serves through high quality and an efficient manufacturing process.
http://www.nexlogic.com