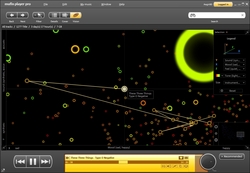 Instead of dealing with additional third-party software and multiple logins, mufin player combines a fully-featured music player and secure online music storage in a single, convenient interface. A single mouse click, and you can listen to your favorite tracks from anywhere
Berlin, Germany (Vocus) April 28, 2010
mufin® today introduced mufin player 1.5 , the latest version of the world's first music player with sound-based music management and music discovery. This new version features mufin.drivebeta, an innovative online music storage that conveniently stores the personal music library online, making it accessible from anywhere. In addition, the new mufin player 1.5 delivers a re-designed user interface as well as numerous enhancements and workflow improvements.
"Instead of dealing with additional third-party software and multiple logins, mufin player combines a fully-featured music player and secure online music storage in a single, convenient interface. A single mouse click, and you can listen to your favorite tracks from anywhere", says Boris Loehe, President of mufin.
mufin.drive is the next evolution of online music storage, combining a fully-featured music player with a convenient online music storage. Current desktop music players require additional third party software and plugins to transfer music from the PC into the Cloud. The mufin player pro 1.5 integrates mufin.drive directly into its graphical user interface, making uploading music easy and convenient without the need for additional software.
mufin.drive provides free online music storage space of 1GB (approximately 200 songs)with no extra bandwidth charges. To deliver the best sound quality possible, music files are streamed in the original bit rate. Online access to the mufin.drive is provided via mufin.com, with is its powerful and renowned web-based music player used as playback device. Users can playback music, get music recommendations, see original cover art or built playlists directly on mufin.com using tracks stored in their mufin.drive.
mufin player's 1.5 new streamlined user interface features a completely redesigned navigation bar that makes it possible to manage all music sources within a single spot. In recognition of mufin player's growing international audience, the player is now localized in Spanish, French, Italian and Dutch in addition to the existing English and German localizations.
mufin player 1.5 is available immediately as a free download at http://www.mufin.com.
About mufin:
mufin's music technology is based on DSP analysis and fingerprints, which identifies, introduces and showcases music from all over the world to people looking for something new and specific to their taste. With mufin's music recommendation and recognition technology, only the sound of the song matters and not its popularity, origin or subjective grouping. mufin empowers content providers to monitor music usage, help their customers rediscover and manage their music collections in a new way using automated playlist creation, visual music navigation or even take advantage of automatic repair of incomplete or missing meta information in digital music files. mufin's recommendation and recognition technologies work where your music is, whether it's on the desktop, online or mobile device. mufin is a wholly owned subsidiary of the MAGIX AG and located in Berlin, Germany.
Trademarks mentioned in this document are the property of their respective owners.
# # #