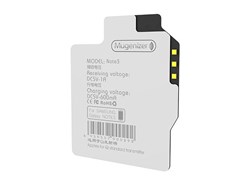 "Mugen Power are no strangers to innovation but their latest product is genius." - Andrew Palmer, Geek News Central
Hong Kong (PRWEB) December 14, 2013
Mugen Power Batteries (http://mugen.co) - manufacturer of high-quality smartphone accessories, today announces the new Mugenizer Samsung Galaxy Note 3 Wireless Charging Receiver (QI Standard) [YJN-WRN3].
This receiver is designed to enable the QI Wireless charging on Samsung Galaxy Note 3 phones, enabling it to be charged without need to connect cables.
YJN-WRN3 can be used together with our acclaimed and recommended by Computer World Mugenizer N11 portable Wireless Power Bank - combining this two products provides consumers, especially those who are often on the move, with a unique combination of QI Wireless and USB charging capabilities.
The new product is exceptionally reliable and easy to use. Like all the other Mugen products, Mugenizer YJN-WRN3 has undergone vigorous QA testing to ensure the highest quality and lowest return rate. Mugenizer YJN-WRN3 is produced in accordance with QI standard of Wireless Power Consortium and is in compliance with the CCC, CE, FCC and ROHS requirements.
Our QI solutions have already received praise from tech journalists:
"I've been playing around the with Mugenizer N11 for a few days now. It's not often I get excited about something like a charging accessory, but let me tell you: This thing's pretty impressive." - JR Raphael, Computer World
"Mugen Power are no strangers to innovation but their latest product is genius." - Andrew Palmer, Geek News Central
Pricing and Availability
Mugenizer YJN-WRN3 is available for just US$19.95, direct from Mugen Power at http://mugen.co/mugenizer-samsung-galaxy-note-3-wireless-charging-receiver-qi-standard.html.
About Mugen Power Batteries
Mugen Power is the worldwide leading brand of high performance batteries for portable electronic devices. Mugen Power means performance and quality and delivers a full spectrum of high-quality products for PDAs, smartphones, digital cameras, camcorders, MP3 players, portable DVD players, notebooks, UMPCs and Personal Media Devices.
Mugen Power batteries have better performance (higher capacity) and reliability (longevity and safety) than other brands. The superior performance improves run time and superior quality results in longer battery life and better protection of the powered device.
All Mugen Power products also undergo vigorous QA procedure, resulting in Mugen Power achieving the lowest return rate in the market. All Mugen Power products are CE and RoHS Certified.
NOTE FOR EDITORS: Mugenizer YJN-WRN3 is available on request to editors of computer magazines and bloggers who wish to write a review of the product.