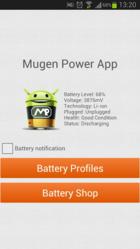 After I used extended mugen battery... I easily get 2 day battery life ! And with WiFi Bluetooth live widgets instant email, and gaming.... all turned on ! This app is perfect in calibrating the extended batteries ! Go Mugen ! Cheers !
Hong Kong (PRWEB) February 25, 2013
Mugen Power Batteries (http://www.mugen-power-batteries.com) the manufacturer of extended batteries for and smartphones, today announced the release of new version 2.0 of Mugen Power App for Android - a multi-profile battery calibration tool with easy calibration of different batteries used in the smartphone.
"This app was created to address the need of power users who do swap batteries in their devices. Normally, when you do so, Android will often report wrong percentage of battery charge, because it stores the statistics of the previous battery in the statistics file. This app will create copies of battery statistics file and will swap them when you swap the battery. This way you will always have correct display of actual battery charge level on your screen," says Nikolai Lebedovsky, CEO of Mugen Power.
In version 2.0 a bunch of new functions have been added, including detailed battery statistics, current voltage display in mV and a home screen widget to show your current charge level.
Mugen Power App 2.0 can be downloaded free of charge from the Google Play here: https://play.google.com/store/apps/details?id=com.MugenPower.MugenPowerBatteries
Connect with Mugen Power Batteries on Facebook: http://www.facebook.com/MugenPowerBatteries
Follow Mugen Power on Twitter: http://twitter.com/MugenBatteries
About Mugen Power Batteries
Mugen Power is the worldwide leading brand of high performance batteries for portable electronic devices. Mugen Power means Performance and Quality and delivers a full spectrum of high quality products for PDAs, smartphones, digital cameras, camcorders, MP3 players, portable DVD players, notebooks, UMPCs and Personal Media Devices.
Mugen Power batteries are designed to provide superior performance (higher capacity) and reliability (longevity & safety). The superior performance significantly increases usage time, often doubling that provided by the OEM original battery. The superior quality results in longer battery life and better protection of the powered device.
Every Mugen Power battery undergoes vigorous QA procedure, resulting in Mugen Power achieving the lowest return rate in the industry. All Mugen Power batteries are CE approved and RoHS certified. Our factory works according to SO9001 quality standard.
A Mugen Power battery is a premuim product, designed for experienced users, who understand the importance of quality, long battery life and safety of everyday use.
# # #