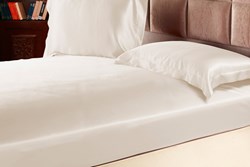 We offer up to 16 popular colors in 19 momme weight silk bedding, 8 luxurious colors in 22 momme silk and 8 amazing colors in 25 momme silk.
New Orleans, LA (PRWEB) September 16, 2013
Lilysilk.com, as a top rated supplier of silk bedding products, has just updated their range of silk products with 6 new colours of silk fitted sheets.
The company's silk fitted sheet is hand crafted from 100% Mulberry silk with immaculate stitching and finish, which features a secure continuous elastic edge to grip the sheet firmly on the mattress.
Mulberry silk is natural and breathable with unique moisture wicking properties that keep users warm in winter and cool in summer. Lilysilk's silk fitted sheet is soft on skin and kind on hair, which make it a good choice for rest and health.
"100% mulberry silk bedding is more than just luxury. Silk is a hypo-allergenic fabric and can regulate your body temperature. Our new silk fitted sheets are made of 22 momme pure mulberry silk," says Mike Lee.
Mike proudly adds, "We offer the largest selection of silk products in different colours and momme weights. Not only do we have the best silk bedding on the market today, we also have a fast delivery service."
Lilysilk offers a wide selection of silk comforters too. Their comforters are divided into three types: spring silk comforter, summer silk comforter and winter silk comforter, which are all made of Grade A mulberry silk floss with elegant silk shells.
About Lilysilk
Lilysillk has been in business for several years and is based in China. This company is a professional silk bedding retailer and concentrates solely on silk products. Customers can nearly find all what they need for their beds from Lilysilk.
More information can be found at http://www.Lilysilk.com