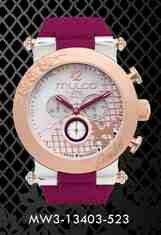 The Era Collection blends together the perfect mixture of refinement and sensuality that any woman would adore
Los Angeles, CA (PRWEB) November 01, 2014
On the heels of a recent distribution deal with Macy's, the officials at Mulco Watches have announced the release of their new Swiss watch collection, Era, which is to be sold exclusively at 13 Macy's locations as well as online at Mulco.com.
A representative from Mulco stated, "The Era Collection blends together the perfect mixture of refinement and sensuality that any woman would adore."
Inspired by a generation filled with glamour and elegance, Mulco's Era watch collection invokes the style of the 20th Century and feels as though it was brought to the present in a time machine. The exquisite details that can be found on every facet of this magnificent timepiece will attract the attention of the most sophisticated watch enthusiasts.
The Era Collection features a one-of-a-kind petunia-orchid color, as well as a beautifully engraved flower bezel. Swarovski crystals are accented throughout the timepiece which adds a natural brilliance and fashionable finish. The collection is also water resistant up to 100 meters.
Mulco's new collection can be found exclusively in 13 Macy's locations in as little as three to four weeks.
About Mulco Watches:
Mulco Watches was established in Switzerland in 1958 and later acquired in 2006 by visionary entrepreneurs with extensive experience in the watch industry. Mulco was subsequently re-launched revealing a brand new look with much edgier sophistication setting the pace for new fashion trends. Style, elegance and quality are quintessential hallmarks for the unique watch collections of the firm. For more information visit http://mulco.com/