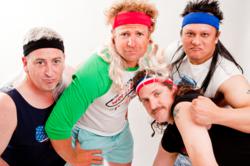 It's Hair On a Headband Sucka!
San Diego, CA (PRWEB) September 21, 2012
Mullet On The Go's new website creates an experience that invites fans to join in on their quest to bring back the once extinct mullet hairstyle via their featured product, the mullet headband, that comes in various headband colors and mullet hair styles.
The new website features Mullet On The Go's face man, Lonny, (aka "Mullet Man") who guides customers to the gateway of freedom via his impeccable taste in fashion and dare-devil stunts as featured in his exclusive section of the site called, Lonny's Mancave.
The interactive website also gives consumers a taste of the fun-loving mullet lifestyle via the extensive fan and event photo galleries where consumers can even upload their own favorite mullet fan photos. Mullet On The Go's Upcoming Events section of the website not only highlights future sponsored events but it also features national holidays such as "Crush A Can Day" and encourages fans to participate in prize-winning contests via various social media channels such as Twitter and Facebook.
The new and improved Store Locator tool easily helps direct consumers to one of the 600+ retail locations who carry Mullet On The Go's collection of fully-patented mullet headbands. And for those consumers who'd rather shop from the comfort of their own home, the online retail shop is fast, easy to navigate and makes it difficult for any consumer not to splurge on a mullet headband.
About Mullet On The Go
Mullet On The Go™ is a San Diego, California based novelty gift manufacturer that was founded in 2007. Their fully-patented line of mullet headbands are currently featured in 4 distinct styles. In January 2012, Mullet On The Go™ ventured in to the wholesale market and their products can be found in over 600 retail locations worldwide to include U.S., Canada, Australia, South Africa and Europe. For more information or to purchase your very own Mullet On The Go™ mullet headband, visit http://www.mulletonthego.com.