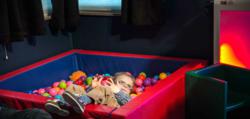 It's great to be able to participate and help enrich the lives of children and make their dreams come to life as much as possible.
St. Louis, MO (PRWEB) August 17, 2012
Make-A-Wish Missouri wanted to grant a multi-sensory room as a wish to Luke on World Wish Day. eSpecial Needs ensured the functionality and timely delivery of the special needs products Luke needed. As a national sponsor of Make-A-Wish, eSpecial Needs works with the organization on a regular basis, providing expert advice and special needs products for special needs kids in the area.
Luke is a six-year-old suffering from Pallister Killian Syndrome and struggle's with many disabilities including visual and hearing impairment, physical limitation, cognitive impairment and medical problems such as seizures, and possible hearing and GI defects. A multi-sensory room would allow Luke to further develop physically and mentally by creating stimulation all in one place. Luke needs this type of stimulation to develop his perception of the world around him.
"eSpecial Needs worked with Make-A-Wish and made multi-sensory product recommendations for what would work best for Luke's condition, age and space," said Scott Kouri, sales manager of eSpecial Needs. "Furthermore, his wish was under a time crunch and we had less than a week to ensure that products would arrive on time for World Wish Day. For the multi-sensory ball pit, we had to use low profile walls to allow Luke to play in the ball pit without being completely covered when lying on his back or stomach. The SoftFloor tiles we chose provided cushion for the entire room and enough padding for playing and safety as well. Once all products were selected, we worked with all the manufacturers to ensure all items would arrive on-time. This was particularly important with the Interactive LED Light Panel which was manufactured and shipped from the United Kingdom."
Multi-sensory rooms and the equipment in them are designed to create a stimulating, yet calming atmosphere. They can be designed for children or adults of all ages and can be installed for therapy and education, or for recreation and leisure. It aims to provide a "failure-free" experience, allowing pleasurable stimulation without the need for verbal abilities or requiring specific outcomes. The focus is to help the user of the room to gain maximum pleasure from the sensory activity they are involved in.
Products supplied by eSpecial Needs for Luke's multi-sensory room included:

Corral Ball Pool with 280 Balls – For a true sensory experience, nothing is more fun than a ball pit. Ball pits provide tactile, auditory and visual stimulation, and are great for sensory input.
Interactive LED Light Panel – Great for developing vocalization skills, the LED panel responds to you by making sounds such as talking, shouting and clapping. It features a variety of modes specifically designed to aid the development of basic life skills in a fun and engaging way.
Water Panels - 41" – Water panels and bubble columns provide a restful, visual and calming atmosphere, allowing health professionals to observe and monitor stressful behavior in patients. Gently vibrating ascending bubbles coupled with constantly changing colored lights have a soothing and mesmerizing effect. Water panels have proved an invaluable aid in the exploration and development of social skills. In many cases the bubble tube is used to promote relaxation for those who suffer from stress and agitation and, in some cases, bouts of depression.
Individual Bean Chair – A great, portable rocking chair provides security and sets a calm tone in the home environment.
Jumbo Reversible SoftFloors – Perfect for clean, soft, and safe floor activities, the 1" thick mats provide a visually stimulating and comfortable effect throughout the room.
"eSpecial needs has been involved with Make-A-Wish for several years now and it is such a wonderful organization. The staff and the volunteers are on top of every opportunity and always work very closely with us to ensure that every aspect of the wish is being addressed so the correct item is delivered when needed. It's great to be able to participate and help enrich the lives of children and make their dreams come to life as much as possible," said Scott Kouri.
All products in Luke's room can be found online to view and purchase at http://www.especialneeds.com. In addition to working with Make-A-Wish, eSpecial Needs is involved with the Variety Club, ARC, Easter Seals, United Cerebral Palsy and Extreme Home Makeover. Other vendors that were involved in making Luke's wish possible included McCarthy, Vessel Architecture Design, Carrie Salyer, MS, OTR/L, PayneCrest Electric, Savory Paint & Design and Maggianos. Contact an eSpecial Needs' sales representative at 877-664-4565 who works with clients and organizations in the greater St. Louis area and provides special needs equipment advice and in-home assessments.
About eSpecial Needs
eSpecial Needs is a leading distributor of adaptive equipment, rehab equipment and therapy solutions for children and adults with special needs. Headquartered in St. Louis, Missouri, the company opened in 2002 by Carrie Kouri after her son was diagnosed with autism in 1999. eSpecial Needs works with clinics, government agencies, school districts, charities, and families in providing the best selection of adaptive equipment, rehab equipment and therapy solutions for special needs children, adults and their caregivers. The company is a provider to the state of Missouri for Medicaid Waiver programs and works with agencies including Missouri First Steps, St. Louis Regional Center and Productive Living Board (PLB) to service all their clients. eSpecial Needs is also an approved provider for Medicaid Waivers for Illinois. In addition to the many schools and healthcare facilities, eSpecial Needs works closely with many national and local charities including holding corporate sponsorship with the Make-A-Wish Foundation. eSpecial Needs operates a full service e-commerce website for people to view and purchase its full product offering and learn more about specials and promotions at http://www.especialneeds.com or contact eSpecial Needs directly at 877-664-4565.
About Make-A-Wish America
Make-A-Wish grants the wishes of children with life-threatening medical conditions to enrich the human experience with hope, strength and joy. According to a 2011 U.S. study of wish impact, most health professionals surveyed believe a wish-come-true can have positive impacts on the health of children. Kids say wishes give them renewed strength to fight their illnesses, and their parents say these experiences help strengthen the entire family. Based in Phoenix, Make-A-Wish is one of the world's leading children's charities, serving children in every community in the United States and its territories. With the help of generous donors and more than 25,000 volunteers, Make-A-Wish grants a wish somewhere in the country every 38 minutes. It has granted more than 212,000 wishes since its inception in 1980; nearly 14,000 in 2011 alone. Visit Make-A-Wish at wish.org and discover how you can share the power of a wish®.