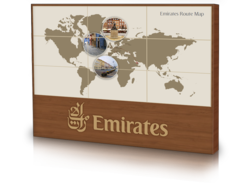 Engaging the audience, whatever the industry, is what SensyTouch is all about.
Suda Sampath, President & CEO
Irvine, CA (PRWEB) December 31, 2012
SensyTouch announces that it will design an interactive, multi-touch application for use in the Emirates Airbus Terminal in Dubai. The solution-driven project will provide varied content to engage the consumer seeking information about destinations, places of interest, weather, currency exchange rates and more.
"Airport applications are one of the many customized solutions where SensyTouch can excel," said Suda Sampath, SensyTouch President and CEO.
In addition to airport terminals, SensyTouch applications provide industry specific solutions for retail, hospitality, shopping malls, scientific applications, GIS mapping, auto showrooms, museums and others.
To make an appointment to demo this application in the SensyTouch showroom, call +1 (877) 396-9676
SensyTouch develops, engineers and markets a premium range of multi-touch systems, featuring slender, elegant design, responsive, fast interaction for a limitless number of industries that want to improve the way they do business.