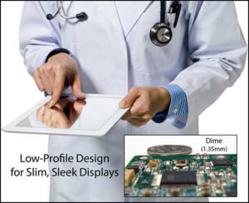 Our customers can tailor the design to fit their application while ultimately saving money by decreasing the design time and fees
Austin, TX (PRWEB) April 04, 2012
Supplying OEMs and system integrators with a simplified design solution that's heavy on flexibility but light on the wallet, Touch International announced today the launch of its new MulTI-Touch Ultra-Thin PCB Controller Series which features a complementing line of baseline projected capacitive sensor designs.
The first of its kind, the new series is designed to help streamline the product development process, while still allowing for complete customization through touch screen size, cover glass and display enhancement options. Best of all, customers choosing the new MulTI-Touch products are able to minimize NRE (non-reoccurring engineering) fees that are often associated with custom designs.
"Our customers are looking for a simplified solution that is easy to make their own," explains Michael Woolstrum, Touch International CEO and co-founder. "By offering a series of touch screens and controllers that can be mixed and matched, our customers can tailor the design to fit their application while ultimately saving money by decreasing the design time and fees."
Supporting up to 15.6" touch screens with up to 9mm of cover glass, the MulTI-Touch Controller series provides smart design and performance options, and features a profile height or .114" or less, giving display makers an ultra-thin, durable board for slim configurations.
For customers wanting to test the projected capacitive technology before they buy, MulTI-Touch Developer Kits are available in 7.0" and 10.1" sizes. See MulTI-Touch display solutions at http://www.touch-intl.com/products/multitouch-touch-screen.html.
About Touch International
Touch International is the leading manufacturer of specialty touch screens and display enhancement windows, and is the largest touch producer in North America. The company is world-renowned for its expertise in optically clear touch panels, EMI filter technologies, and custom touch screen designs for military, aerospace, medical, transportation and retail applications. Touch International was first to produce the Apple iPhone-type projected capacitive touch screen, and also builds resistive sensors and glass filter products used in touch screens, display windows, anti-reflective and anti-vandal filters. The company is headquartered in Austin, Texas and has complementary sales and manufacturing facilities in Europe and Asia.