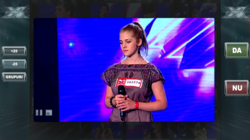 Engaging the audience, whatever the business or industry, is what SensyTouch is all about.
Suda Sampath, President & CEO
Irvine, CA (PRWEB) October 30, 2012
SensyTouch digs deeper into the entertainment industry through a partnership with X Factor (Romania) by introducing the popular television talent show to its multi-touch systems, which help the judges make quick and objective decisions during the pre-selection process of candidates. The SensyTouch application puts all the candidates' information at the judges' fingertips.
SensyTouch developed an application specifically for the show that incorporated all the necessary data—photos, videos, musical experience, personal information and more. The application played on SensyTouch's design strengths, including interaction, ease of use, state of the art engaging software and responsiveness. The show uses the SensyTouch (ST42MT) 42" multi-touch table supporting 32 simultaneous zero-pressure touches.
"If we can make the job easier for the judges of X Factor (Romania) with a multi-touch tool, then it's a winner not only for the show, but also proves that multi-touch products can provide solutions through hardware and software to the overall entertainment industry—and beyond," said Teodor Tanase, SensyTouch Vice-President.
Tanase added that the general impression of the partnership with SensyTouch during Season 2 of X Factor (Romania) was impressive because of the application's accuracy and efficiency in the pre-selection process.
X Factor (Romania) is based on The X Factor, created by Simon Cowell in the United Kingdom. It was brought to Romania by Antena 1 channel. The hosts are Razvan Simion and Dani Otil.
To make an appointment to visit the SensyTouch showroom, call +1 (877) 396-9676 or email info@sensytouch.com
SensyTouch develops, engineers and markets a premium range of multi-touch solutions, featuring slender, elegant design, responsive, fast interaction for a limitless number of industries that want to improve the way they do business.