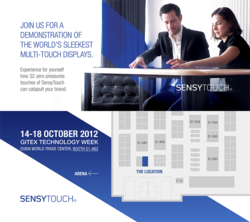 Engaging the audience, whatever the business or industry, is what SensyTouch is all about.

Suda Sampath, President & CEO
Irvine, CA (PRWEB) September 28, 2012
SensyTouch versatile multi-touch technology will be on display during its first showing at GITEX, one of the most influential international ICT events. The wall mount and table multi-touch displays are custom designed for many industry applications, including hospitality, shopping malls and automotive showrooms.
Headquartered in Irvine, Calif., SensyTouch combines innovative design, engineering, engaging software and state-of-the-art hardware to produce multi-touch solutions that can transform the way business—any business--is conducted.
The sleek design—only 2.6 inch depth—is among the thinnest design in the industry. SensyTouch supports 32 simultaneous zero-pressure touches that empower and engage an audience whether it's business presentations or shoppers searching for a specialty store in a mall. Information is there at a touch.
"Interaction is a powerful tool, one that SensyTouch's multi-touch wall mount or table display provides." said Suda Sampath, President & CEO. "We offer a complete package from design to technical support. The end-to-end value becomes evident when a customer experiences SensyTouch in action."
SensyTouch Booth is at S1-A62, Sheikh Saeed Hall.
Among industry applications that are available and customized from SensyTouch are:

Automotive Showroom: features 360 degree vehicle views, interchangeable options and accessories, vehicle tours, interactive digital brochures and more
Hospitality: an interactive guest experience provides easy and quick information about local attractions, resort amenities, restaurants, maps, menus, coupons and more; use of the touch screen can make a stay even more rewarding
Shopping Malls: retail thrives on interaction; when a SensyTouch screen is strategically installed, the customer experience is enhanced through use of interactive maps, mall and store information, reservations, events and more.
To receive a one-day complimentary pass to visit the SensyTouch Booth at GITEX 2012, please contact us at +1 (877) 396-9676 or email info(at)sensytouch(dot)com
SensyTouch develops, engineers and markets a premium range of multi-touch systems, featuring slender, elegant design, responsive, fast interaction for a limitless number of industries that want to improve the way they do business.