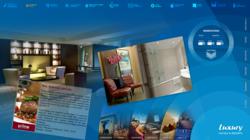 Irvine, CA (PRWEB) August 22, 2012
SensyTouch has recently announced its newest industry specific multi-touch software application designed for Hotels & Resorts, featuring modules for guest services, local attractions, resort amenities, meetings and dining which include maps, reservations, menus, catalogs, special offers and more.
The SensyTouch multi-touch hospitality application adds elegance and convenience to any resort's guest services department. Designed to complement the traditional guest services desk, this new application provides 24/7 access to information regarding local attractions, restaurants, resort amenities, and other hotel specific features. Located in a resort lobby or strategically placed throughout a hotel, this application allows guests to quickly access the resort services as well as local entertainment.
The hospitality application is designed with stunning graphics and an intuitive interface to provide tangible value to guests while complementing the ambiance of hotels and resorts. From the point of arrival to the express checkout, SensyTouch's hospitality application provides the convenience, efficiency, and professionalism that guests expect during their stay.
SensyTouch- Multi-Touch Display Options
SensyTouch offers multi-touch table displays as well as wall mounted displays which range in size from 42"-92". The new hospitality application runs seamlessly on any of SensyTouch's multi-touch systems which come complete with a 64 bit Windows 7 System, an Intel i7 Core Processor, 1920X1080p HD resolution, and much more.
SensyTouch- Multi-Touch Guest Services
With modules for local attractions, restaurants, meetings, and resort amenities, this application helps guests explore the hotel and surrounding areas from a multi-touch kiosk, providing directions, travel options, catalogs, menus, reservations, tickets and more.
SensyTouch- Resort Amenities & Information
This multi-touch hotel & resort application provides quick check in, express check out, interactive maps of the hotel and hotel information including complimentary offerings, pool hours, room styles, laundry facilities, internet services and more.
To make an appointment to demo this application in the SensyTouch showroom, call +1 (877) 396-9676 or email info(at)sensytouch(dot)com
About SensyTouch
SensyTouch, through its excellence in innovative design and engineering, develops and markets a premium range of multi-touch systems and solutions. With years of software development experience, SensyTouch specializes in creating intuitive multi-touch applications, designed to provide an extraordinary user experience. SensyTouch's systems are remarkably thin and highly responsible, which makes them suitable for a number of different applications and industries.
To learn more about SensyTouch displays and solutions, visit http://www.sensytouch.com.