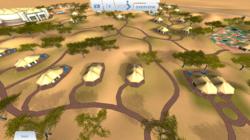 Engaging the audience is what SensyTouch is all about." Suda Sampath, President and CEO of SensyTouch
Irvine, CA (PRWEB) June 27, 2013
SensyTouch combines its versatile multi-touch technology solutions with the platform reach of Unity Technologies, one of the most popular for 3D application development. The SensyTouch application will feature an interactive map which displays the property plots available at an upcoming residential development by Wahat Al Zaweya, possibly the first and largest project in the Al Ain region to offer freehold title for locals.
"The SensyTouch mapping application features the industry's sleekest all-in-one multi-touch system," said Suda Sampath, president and CEO of SensyTouch. "This custom-engineered application proves again that SensyTouch hones in on the needs of a project to provide a powerful tool for the best customer experience."
In addition to displaying the plots of land, their development phasing and road plan, the application will have the ability to zoom in on street level and the ability to click on each residential plot for additional information about size, value and more.
SensyTouch multi-touch solutions are in use by museums, entertainment industry/television, pharmaceutical, auto showrooms, shopping malls, airports, education/university, sports/football (soccer) training and hospitality.
To make an appointment to demo the SensyTouch applications, please contact us at info(at)sensytouch(dot)com
SensyTouch develops, engineers and markets a premium range of multi-touch solutions, featuring slender, elegant design, responsive, fast interaction for a broad range of industries.