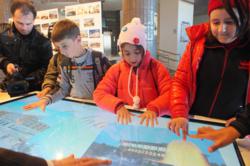 Museums and the multi-touch experience provided by SensyTouch make a perfect match because of the innate interaction of human touch, education and technology." Suda Sampath, President and CEO.
Irvine, CA (PRWEB) December 26, 2012
SensyTouch brought the "Galati…Then & Now" photo exhibit to a new level of interaction at the Natural Sciences Museum Complex "Rasvan Angheluta" in Galati, Romania. SensyTouch lent its multi-touch expertise to the exhibition in honor of City Day and the National Day of Romania.
For the three-day exhibit held Nov. 30 through Dec. 2, SensyTouch digitized a wide-range of historic images into dedicated multi-touch software. "Our goal was to help museum visitors learn more about Galati City and to provide them with the opportunity to interact in a unique way with the history of where they were born or live," according to Liviu Ciobotaru, Head of Design.
The 65" multi-touch table with 32 zero-pressure touch points drew kindergarteners to senior citizens. The SensyTouch multi-touch feature allowed many users to engage with the exhibit at the same time as well as easily compare photos—past and present—with a simple touch.
The exhibition was based on old photos and postcards that belonged to photographers and collectors who love of Galati. The exhibit included original images of the city from nineteenth and twentieth centuries, which allowed visitors to observe the changes to the city over the years.
To make an appointment to demo the SensyTouch applications, please contact us at info(at)sensytouch(dot)com
SensyTouch develops, engineers and markets a premium range of multi-touch solutions, featuring slender, elegant design, responsive, fast interaction for a limitless number of industries that want to improve the way they do business.