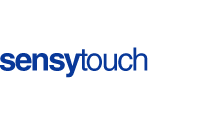 SensyTouch applications are highly intuitive and engaging in order to provide a multi-touch experience that is unmatched.
Lake Forest, CA (PRWEB) May 30, 2012
SensyTouch displays are designed to provide users with an extraordinary multi-touch experience. To compliment the aesthetics of the world's thinnest multi-touch display systems, SensyTouch applications are highly intuitive and engaging in order to provide a multi-touch experience that is unmatched. To view some of SensyTouch's multi-touch displays and multi-touch applications, visit http://www.sensytouch.com.
The new multi-touch display systems and software applications from SensyTouch allow companies to captivate users through interactive multi-touch kiosks, guest service terminals, and trade show displays. In addition to the capabilities of the SensyTouch wall mount display system, SensyTouch multi-touch tables are perfect for industries requiring face to face interactions while sitting at a table such as banking & wealth management, hospitality, product showrooms, and much more. With applications designed for specific functions across a number of industries, SensyTouch multi-touch displays are not just aesthetically stunning, but also incredibly versatile.
SensyTouch: Industry Specific Multi-Touch Applications
SensyTouch's highly functional multi-touch software applications combine elegance and functionality by transforming integral business functions into a captivating user experience. SensyTouch currently offers applications for the following industries: hospitality, shopping mall, department store, wealth management, elementary school, medical field, trade show environment, and museums.
SensyTouch: Custom Applications
If the standard SensyTouch solutions do not fit a specific industry or business, the SensyTouch team will engage to design and develop a solution that will meet the company's requirements.
SensyTouch: Multi-Touch Display Systems
Designed specifically for elegance, SensyTouch displays are highly engaging with stunning graphics to guarantee an extraordinary user experience. With incredibly low latency, powerful processing, zero-pressure response, and options for displays from 42" to 92", SensyTouch multi-touch systems make a great addition to a large number of industries.
To learn more about SensyTouch multi-touch display systems and software applications or to schedule an appointment to visit the SensyTouch showroom, call +1 (800) 385-5814 or email info(at)sensytouch(dot)com
About SensyTouch
SensyTouch, through its excellence in innovative design and engineering, develops and markets a premium range of multi-touch systems and solutions. With years of software development experience, SensyTouch specializes in creating intuitive multi-touch applications, designed to provide an extraordinary user experience. SensyTouch's systems are remarkably thin and highly responsible, making them suitable for a number of different applications and industries.
To learn more about SensyTouch, visit http://www.sensytouch.com