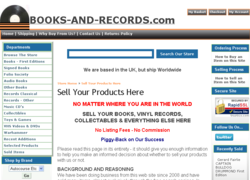 Sellers get a three-month free subscription and premium support
Tilshead, Wilts (PRWEB) August 21, 2012
Since 2008 Books-And-Records.com has been selling mainly books and vinyl records to its many online customers and is excited about this. Books-And-Records.com today announced its decision to open its platform to other sellers worldwide and add a multi-seller marketplace to their services.
Benefits are plenty, including three months of totally free listings (the price after that is only £10 per month). Sellers can list an unlimited number of products and all sales go directly to them - the site does not take a cut.
Advertising is largely taken care of, as Bob Evans, owner of Books-and-Records.com explains. "Products already on the site feature really well on search engines like Google, Bing and Yahoo," says Bob. "Anyone listing products in the marketplace will stand a real chance of achieving the same results, usually within a week or two. This is exactly what sellers should expect when listing their products in any online mall - and results already achieved are easily verifiable."
Sellers who wish to recruit others can do so through the site's inbuilt affiliate program, which rewards them with site credits. Other benefits include a choice of shipping and payment methods, as well as a personal Messaging system, which enables sellers to communicate directly with their customers. There is also a Voucher system in place, a Seller Reputation system for ratings and feedback, a Seller Profile page and a Shopping Cart to which buyers can add multiple items before checking out.
"Premium support is available to all sellers," says Bob. "The aim is to give them every opportunity to sell their products. They start off with a three-month free subscription so that they can set up and test the system and get used to its many features without having to pay anything up front."
Although the site specializes in books and vinyl records, the new marketplace is open to sellers of other product types as well. Seller stores will also be linked to and from the main site and all seller products will be listed in the site search engine, which is regularly updated.
About Books-And-Records.com
The site was set up in 2008 by Bob and Nergis Evans. Initially, it was designed as a single seller store for the sale of first edition books and vinyl records and they have had a steady turnover ever since. Realising that other sellers might benefit from listing their products on the site, Bob and Nergis decided to extend the site by adding an international multi-seller marketplace.