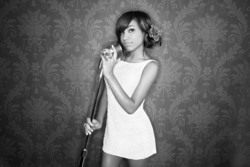 Miami, FL (Vocus) July 10, 2008
Karina Pasian, The Island Def Jam Music Group's new hit artist will be headlining the entertainment lineup at the 5th Annual Multicultural Marketing Summit in Miami, FL on Thursday, October 23rd. The soon-to-be 17-year-old Dominican-New Yorker has a powerful voice that combines a jazz-inspired flare to create music that is transcendental. Karina's performance along with the location of the Multicultural Marketing Summit and keynote speakers create a cultural experience that is enlightening, yet provide a wealth of knowledge on America's diverse consumer. The event aims to provide solutions for Fortune 1000 companies seeking to break into and expand within the U.S. multicultural markets.
Karina has been trained in classical piano since the age of three and studied music and voice at the High School for Professional Performing Arts in New York. She can sing in seven different languages – Spanish, English, Italian, Russian, Arabic, Turkish & French – and is of Dominican heritage. Karina won Star Search in 2003 and has performed at a number of prestigious events. Last June, she sang at the White House during Black Music Month and was the first Dominican to perform there. She's collaborated with a number of prominent songwriters, artists and producers such as Chris Brown, The Dream, Tricky Stewart, Gordon Chambers, Carlos McKinney, Lil Mama and many more.
Karina will be releasing her debut album "First Love" August 19th, 2008 and one of her singles of the album "Can't Find the Words" was recently featured as iTunes' single of the week. Although the artist has experienced unparalleled success for someone her age, the modest young artist frequently performs at charitable events and high schools. As a truly versatile artist, Karina embraces all forms of music and manages to fuse together an array of musical styles within her songs. Due to her unique ability to blend musical styles from nearly every culture and era, it is only appropriate for Karina to perform as this year's featured artist at the 5th Annual Multicultural Marketing Summit.
Also performing at this year's conference will be the independent Latin rock band, Local 34, who is undoubtedly Miami's hottest new sound. Local 34 blends together a number of Latin-influenced beats with a touch of rock. The band's diverse nationalities (ranging from the Caribbean to South America) are reflected in the uniqueness of their sound. Local 34 will kick off the Summit with a live performance on opening night. The Multicultural Marketing Summit will be held at the Mandarin Oriental hotel in Miami, FL on October 22-24, 2008.
About The Island Def Jam Music Group
Island Def Jam is a major label of Universal Music Group, the largest music company in the world. IDJ was formed in 1999 when Universal Music Group merged Island Records and Def Jam Recordings to form one "super label" that targets all formats: Rock, Pop, Hip/Hop & R & B. Island Def Jam's versatile roster includes over 125 artists. Some well known artists are: Mariah Carey, JAY-Z, Kanye West, Bon Jovi, Rihanna, Fall Out Boy, & The Killers. In 2007, IDJ artists were nominated for a total of 31 Grammy's; 9 of which won in key categories.
About The Multicultural Marketing Summit
For more information about the 5th Annual Multicultural Marketing Summit please visit http://www.latinforce.net/summit or call 888-309-2005.
###