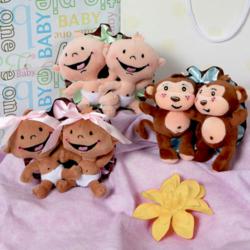 Offering the perfect personalized product is what makes us Big Dot.
Menomonie, WI (PRWEB) September 21, 2011
BigDotOfHappiness.com, along with its niche site, BabyShowerStuff.com, is proud to expand their selection of baby shower supplies to include hard-to-find items. Recognizing how difficult it was to find African American and Hispanic baby shower themes, both Big Dot Shops now offer more multicultural baby shower lines, as well as items featuring twins and triplets. Founder and general manager Sherri Yukel, explains, "With 18 original lines for multicultural baby showers and more than 40 new themes featuring multiples, we are able to fill a hole in the marketplace. The birth of a baby is an important event and every Mommy-To-Be deserves to have a baby shower that perfectly reflects her and her baby – or babies if more than one are expected."
Big Dot of Happiness, LLC, has been an industry leader in providing modern baby shower supplies for more than a decade. By catering to the unique style of every Mommy-To-Be and offering hard-to-find baby shower themes, BigDotOfHappiness.com and BabyShowerStuff.com have captured the attention of many savvy shoppers looking for baby shower supplies they can't find anywhere else. "We give the customer what they want, when they want it. Offering the perfect personalized product is what makes us Big Dot," says Yukel. Proving their dedication to creating Hostess Heroes out of every customer, each Big Dot Shop offers a concierge service to perform design changes to any existing baby shower theme.
This market awareness has already made an impact on customers looking for unique and original baby shower supplies. "You guys are the best in the business! I placed my first order for a twins baby shower and loved the quality of the products and the fast shipping. I loved it so much I made a second purchase and I was very pleased – you are my one-stop shop," says Karsheika G. of Boulder, CO.
Being conscious of market needs has been a driving force behind every item offered at BigDotOfHappiness.com and BabyShowerStuff.com. "We stay ahead of the trends. We want to be the first place everyone looks when they have the honor of hosting a baby shower," says Yukel. "Planning a baby shower should be an exciting time where hosts and hostesses can find or concierge their perfect baby shower theme – settling because of a small selection simply isn't an option."
About Big Dot of Happiness, LLC
Big Dot of Happiness, LLC, is an event party company and the originator of various games, invitations and themed party supply products called "Big Dot Originals." With personalized invitations, impressive party favors and unique party decorations, Big Dot of Happiness, LLC, makes everyday parties into extraordinary events. "We create remarkable smiles by embracing a remarkable culture."
Find Big Dot of Happiness on Facebook for inspiration and exclusive deals just for fans.
Contact:
PR Coordinator
Big Dot of Happiness, LLC
1.800.274.4282
http://www.bigdotofhappiness.com
# # #