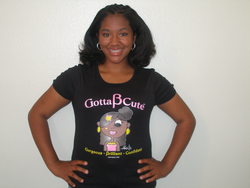 I was so tired of seeing girls wearing T-shirts with negative messages, I wanted to provide a more positive option
Fontana, CA (PRWEB) October 7, 2008
When Zana Jackson, Founder/Owner, envisioned the concept for GottaBCute (TM) almost two years ago, she never imagined it would take off like it has. GottaBCute specializes in screen printed, blinged out tees, and unique accessories for infant through junior/adult sizes. "We've tried to change our concept to sell to kids and teens but adults love GottaBCute shirts and there aren't many options available for Mothers and Daughters or siblings to dress alike."
GottaBCute has recently expanded the accessories line to back packs, lip balms, shoe laces, lanyards, lighted whistle key chains (for safety), buttons, pencils, bracelets, temporary tattoos, and stickers. There are several different logo designs offered and something to fit everyone's style and budget. Prices range from $1 up to $50. No matter what background, economic status, or ethnicity, being cute is universal for girls of all ages.
More recently, the founder's daughter Zanae' Jackson, a 13-year-old, 8th grade student at Heritage Intermediate School, has added a new line called GBC Girls to GottaBCute as well as models for the company. "Zanae' loves to draw and we have always promised to put her design on a t-shirt so when she came up with the idea to draw multicultural girls from around the world (African-American, Indian, Caucasian, Asian, and Hispanic) with positive messages, we had to do well on our promise." The first GBC Girl in the line looks like Zanae', a beautiful, stylish, little brown girl. The acronym for GBC is Gorgeous, Brilliant, and Confident. The shirts have become so popular that we have already sold out and have orders for more. Parents are looking for something special for their daughters and GottaBCute products offer the uniqueness.
GottaBCute, also known as GBC, started off as the name of a company for an invention created back in 2000. It wasn't until 2006, when Johnnie and Zana Jackson, Owners decided to create a logo and put it on T-shirts. "I was so tired of seeing girls wearing T-shirts with negative messages, I wanted to provide a more positive option". Girls can wear a confident message, feel good about themselves, and be stylish at the same time. GottaBCute is not just about being cute though; it's about strength, self worth, quality, and being positive in ones thoughts, attitude, and self image. It is also about getting the message across to teach others that girls do not have to show their body parts to be cute or in style. "Girls can love and be themselves and others will respect them for who they are which is the message I teach my 2 daughters (Zaylin Jackson, 7 ½ years old, company model)."
GottaBCute products are currently sold online at http://www.gottabcute.com , by hosting a GBC party, at trade shows and local community events, as well as Da Head Qtrs. (Urban) Store in Los Angeles. Also, visit http://www.myspace.com/gottabcute . GottaBCute is seeking girlie boutiques and department stores to carry its line of products. Fundraisers are offered for organizations like Young Women of Empowerment which teaches girls to better themselves.
Future plans? Growing into a brand called GottaB (TM)... because there are so many positive things you've GottaB. GottaB... will include a new line called GottaBFly (TM) for stylish guys created by Eric Williams, a 20 year old College Art Student and Founder's nephew. The GBF line will be released for the holidays.
But for now, There's only one kind of Cute, GottaBCute.
###