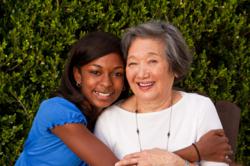 Hospice can be difficult to discuss, and it can be even more difficult when there is a language barrier.
Sunnyvale, California (PRWEB) December 13, 2011
The holidays are a time when families gather and celebrate. Yet for some families, it may be a time when they are facing the decline and foreseeable death of a loved one to disease and/or old age. These families may be considering hospice care for their loved one. Hospice can be difficult to discuss, and it can be even more difficult when there is a language barrier. End-of-life care and customs vary as much as the languages in the multi-ethnic San Francisco Bay Area.
Pathways Home Health, Hospice & Private Duty offers basic hospice information in seven different languages including English, Chinese, Spanish, Farsi, Tagalog, Russian and Vietnamese on their website. Individuals and families with general questions about hospice, how hospice care works, and what services are provided under hospice care will find answers in this basic brochure.
The basic hospice brochure is downloadable in all seven languages and easy to understand. It provides patients and their families with information that will help them begin to discuss hospice as a care option. They will also be able to better understand the services provided under hospice care. These services include pain management, symptom control, emotional support and spiritual care to patients and their families as they come to grip with a life-limiting illness.
Link to brochure resource page
http://www.pathwayshealth.org/resources/translated-materials.html
About Pathways Home Health & Hospice
Pathways Home Health & Hospice is a non-profit community based organization. Founded in 1977, Pathways now serves over 5000 families annually in five Bay Area counties. We care for patients in their place of residence, whether it be their home, hospital, nursing home or assisted living facility. Affiliated with El Camino Hospital and Sequoia Hospital since 1986, Pathways is accredited by The Joint Commission and is a member of the Visiting Nurses Association of America, California Hospice & Palliative Care Association, the California Association of Health Services at Home, and the National Hospice & Palliative Care Organization.
Donations received from the community by Pathways Home Health & Hospice provide services that would otherwise not be available, including 24/7 access to a specialized team of care providers, family bereavement counseling and support, integrative therapies, caregiver support, comfort care, and funding for under- and uninsured patients.
###