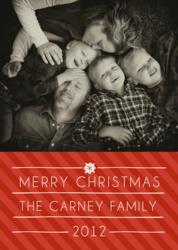 MultiLoft combines the flexibility of digital printing with the emotional impact of beautiful letterpress craftsmanship
Sedalia, Missouri (PRWEB) September 25, 2012
Pre-converted substrate supplier Convertible Solutions has introduced MultiLoft Accents to allow digital printers and designers to add a colorful touch of elegance to business cards, invitations, menus or holiday cards. The bold, richly colored stocks can be combined with MultiLoft White or Ultra White stocks to form a unique 29 point card that features a different color of paper on each side.
MultiLoft Accent sheets are available in Mohawk Carnival Vellum Red and Carnival Vellum Black and Strathmore Mahogany. These papers have been coated for printing with white or metallic ink on an HP Indigo press or full color printing over the top of white ink.
The 12 point MultiLoft Accent stocks have cohesives on the back for use with the 17 point MultiLoft White and Ultrawhite stocks introduced by Convertible Solutions in July. After printing in a standard digital press, the front and back sheets are assembled back to back. The pressure from the trimming clamp seals the sheets together into an impressive 29 point card. After assembly, the sheets can also be die-cut into specialty shaped cards.
The White and Ultra White MultiLoft stocks feature Mohawk Superfine Eggshell which has been a favorite for for wedding announcements, event invitations and all kinds of high status print projects for decades.
MultiLoft Accents can also be used with MultiLoft Triple+ inserts which have cohesives on both sides and can be placed between the white and accent sheets to create a 46 point triple thick or a 63 point quadruple thick card. The Triple+ inserts are also available in Mohawk Superfine Eggshell White and Ultrawhite.
"MultiLoft combines the flexibility of digital printing with the emotional impact of beautiful letterpress craftsmanship," explains David Williams, Director of Business Development for Convertible Solutions. "The addition of bold color makes these ultra thick cards even more unique and elegant."
Convertible Solutions is a subsidiary of Inter-State Studio and Publishing company. In addition to the MultiLoft card stocks & Double Thick Impact Cards, the company makes a full line of pre-converted stocks for envelopes, mailers and specialty items. Convertible's TRU-Flat® book binding technology is incorporated in Mohawk Fine Paper's Panoramic book product line. More information is available at http://www.ConvertibleSolutions.com.
Convertible Solutions will be demonstrating the full MultiLoft line, Double Thick Impact Cards, Panoramic Papers and the TRU-Flat® book binding technology in booth 456 at Graph Expo 2012, October 7-10 at Chicago's McCormick Place South.