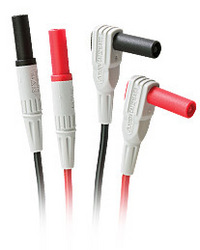 Waltham, MA, USA (Vocus) September 30, 2010
Extech Instruments, makers of the best handheld test and measurement tools, introduces a range of durable and affordable, double-molded silicone test leads and kits for clamp-on meters, multimeters and other electrical testers, along with a variety of test probes for diverse testing requirements.
The new test leads, probes, and kits add permit test equipment users to increase the versatility of their test equipment and upgrade their test leads with silicone-based test leads for increased durability. Considered the best jacket material for test leads, silicone retains its pliant, flexible characteristics regardless of extreme temperature conditions.
Even for technicians who do not perform work in outdoor wintry weather, silicone-based test leads eliminate the challenges of dealing with stiff test leads left in a truck overnight or outside between jobs. Additionally, silicone's remarkable resistance to burns and chemicals makes it useful in the toughest job conditions.
Extech's new TL726 premium silicone test leads feature 1.6 meter (63") length; double-molded collars, right angle and straight end connectors; standard, shrouded, safety banana plugs; and a CAT-IV 600 V, CAT III-1000 V, 10 A rating.
The TL726 test leads can also be found in two new well-equipped test lead kits:
The TL833 Industrial Test Lead Kit is a 12-piece set that features the TL726 premium test leads and also the following probes: plunger-style, insulated jaw and hook clips; oversized alligator clips; sharp point test probes; Type K thermocouple bead probes; and a durable soft storage case.
The TL831 Master Electrical Test Lead Kit is a 10-piece kit that includes the TL726 premium test leads plus ultra sharp test probes; plunger-style, insulated jaw, pincer, and hook clips; oversized alligator clips; and a durable soft storage case.
Additionally, all clips and probes found in the new kits, plus a variety of other specialty probes and clips, are available individually. To learn more, visit our website: http://www.extech.com/instruments/categories.asp?catid=52.
About Extech Instruments
Extech Instruments is recognized as the source for the best handheld test and measurement tools worldwide. Founded in 1971, Extech is known for its depth and breadth of innovative testers and meters suited for electrical, HVAC, building/restoration, as well as a host of environmental testers for measurement of sound, light, humidity and other factors. All Extech meters are distributed worldwide through leading representatives, distributors and OEMs. The company is headquartered in Waltham, Massachusetts, USA and is ISO 9001 2000 certified. Extech is a wholly owned subsidiary of FLIR Systems, Inc.
###