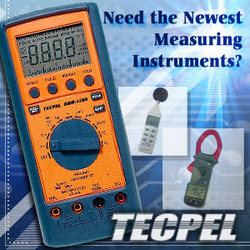 (PRWEB) July 9, 2008
When in need of testing internal temperature/humidity or external wind/sound velocity, what image comes to mind first? TECPEL Co., Ltd. should be the name that comes to mind, presenting customers with a leading brand and high accuracy measuring instruments like Clamp Meter to fulfill each buyer's requirement.
Approved by UL, TUV, & CE Quality Control System, TECPEL always weeds through the old and brings forth the new products to impress customers with good quality and categories of meters. Famous for its thoughtful service of customizing meters, TECPEL not only produces temperature & humidity meters, multimeters, thermometers & dataloggers, clamp meters, but any sort of measuring instrument, including pH meters, sound level meters, function generators, calibrators, anemometers, electric testers, infrared thermometers, etc.
Additionally, TECPEL believes in marketing orientation; its on-time delivery, 2-year warranty (out-of-production components excluded), and flat-rate services repeatedly elevate its reputation above rivals. Less competitors in this market make the before mentioned promises, however, only TECPEL gives its word. Following the MIL-STD-105E management system, TECPEL controls its production line in a stable condition, and is able to accomplish every order need on time. Not only an exporting distributor, as a major enterprise in this field, TECPEL's target is to stand for Asian market, aiming to become worldwide leading brand.
--Impressive Meters in TECPEL
For those in need for temperature-testing, even for both internal and external tests, TECPEL's Temperature Meter CL 327 is a perfect measuring instrument to perfectly fit any need. This Meter has 11 types of thermocouples, which range from -200~1820ºC/-328~3308ºF (Min-Max derived from the 11 types) and can be applied to both internal & external temperature tests, and even to humidity test. The Temperature Meter CL 327's suitable dimensions: 88 x 168 x 26 mm means that it is convenient to be carried with you.
Furthermore, TECPEL is introducing another multimeter, Digital Multimeter RS-232 Interface for all professional use. With auto/manual range and audible continuity check, this Multimeter, designed for multi-function & digital interface, surpasses any other homogeneous product, offering buyers versatile uses. Mostly used in diode test, it's designed for temperature measurement ranged from -50~1300ºC (-58~2372ºF), and range of DC Voltage is divided into four types including 400mV, 4V, 40V, 400V, 1000V ¡Ó 0.1% that can support various testing conditions while in further specialized experiments or exams.
For applying to unique environmental exams, TECPEL presents customers the pH Meter 703 to precisely test the Potenz H+ in any public facility such as swimming pools, aquariums, cooling towers, water and wastewater treatments, sanitation plants and laboratory applications. This pH Meter features in its high accuracy: ±0.02pH and suitable size with 90g in weight & 158 x 40 x 34mm in dimension. Neither government environmental examiners nor lab researchers can miss out on this useful measuring instrument.
After mentioning instruments for measuring temperature/humidity/wind velocity/pH degree, TECPEL positively promotes another hot product, sound level meter, to widen clients' sight. The Sound Level Meter DSL-330 & 332, which are applied to test level & vibration of sounds within frequency range 31.5Hz~8kHz, bring customers both fast & slow dynamic characteristic models with level range from 30~130dB and with 4 Digit LCD display. Designed for reset function and low battery indication, the Sound Level Meter DSL-332 is also set for self-calibration, supporting users not only for an exam but to correct the indication.
According to its enterprise code, TECPEL invests much effort in order to broaden its marketing policy for discerning clients and far surpasses others as a forerunner in this field. In the future, TECPEL will provide more innovative and multi-functional meters with more flexible order services, presenting its best production capability to international stage.
Please visit allproducts.com PR Room for further information.
###