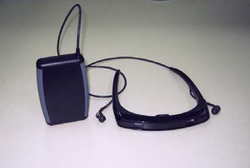 This device gives me the feeling that I am taking control of my illness. I got my confidence back and can actually enjoy going out for a walk without the fear of falling down. But most importantly
Haifa, Israel (PRWEB) April 28, 2009
From now on, "virtual reality" has a whole new meaning for people with Multiple Sclerosis who want to improve their balance and walk normally again.
The GaitAid Virtual Walker, a nonprescription virtual-reality device, represents a significant advance for Multiple Sclerosis patients. Developed by MIT-educated Computer Science Professor Yoram Baram, PhD, it consists of a cell-phone-size, lightweight control unit and a set of comfortable high-tech goggles that provide sensory feedback of visual images and sounds in response to the patient's movements.
Worn for practice-walking just 20-30 minutes a day, GaitAid improves walking (sometimes from the first step) and "rewires" the wearer's brain to follow a healthier walking pattern--an effect that often continues even when it isn't being worn.
Along with the ability to walk normally again, the GaitAid Virtual Walker restores the Multiple Sclerosis patient's capacity to get the most enjoyment from life. One GaitAid user says, "This device gives me the feeling that I am taking control of my illness. I got my confidence back and can actually enjoy going out for a walk without the fear of falling down. But most importantly," he emphasizes, "my mental state of being is much more positive, and I'm more independent."
Yoram Baram, a computer science professor and incumbent of the Roy Matas / Winnipeg Chair in Biomedical Engineering at the Technion, Israel Institute of Technology, developed the GaitAid Virtual Walker in collaboration with several neurologists specializing in treating Multiple Sclerosis and other movement disorders.
One of his collaborators, Ariel Miller, M.D., Professor of Neurology and Director of the Center for Multiple Sclerosis and Brain of the Carmel Medical Center, states: "The results clearly indicate that the device helps patients with MS control their gait. The degree of improvement is proportional to the degree of impairment. (That is, the most severely impaired patients show the most improvement.) The results support the potential role of the device as a rehabilitation modality in MS and substantiate their specific implementation in efforts to alleviate, improve, and restore mobility in patients with gait disturbances due to neurological disorders in general."
About Multiple Sclerosis:
Multiple Sclerosis is a condition in which the immune system attacks the central nervous system. This can lead to the appearance of almost any kind of neurological symptom and often progresses to physical and cognitive disability. There is currently no cure, although stem cell research offers great promise.
Emerging scientific evidence confirms that physical activity reduces the neurological deterioration that contributes to the progression of Multiple Sclerosis.
Origin of the GaitAid Virtual Walker:
The idea for the GaitAid project was sparked 12 years ago while Professor Baram was designing a mechanism for NASA to navigate low-flying helicopters around obstacles. The concept of the design, which Baram later applied to the GaitAid Virtual Walker, is that the optical images of objects help the observer navigate, stabilize, and pace movement in space.
For more information on the GaitAid device:
online http://www.medigait.com
email: support (at) medigait (dot) com
or by phone 888-777-9906.
###