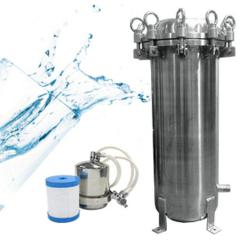 ...it just makes sense for us to release the Aquasource whole house system and Aquamini compact travel system to fulfill our customers' other water filtration needs.
Las Vegas, Nevada (PRWEB) December 12, 2012
Although introduced at its Celebrate 30 (C30) convention on November 3, 2012, Multipure's latest products, the Aquasource whole-house drinking water system and the Aquamini compact drinking water system, have only been available for preorder or in limited quantities at introductory prices. Beginning December 1, 2012, Multipure officially launches these two products for general sale at their regular pricing.
Providing superior, point-of-entry, whole-house filtration, Multipure's Aquasource is designed to connect near the water source or water heater. It reduces contaminants in the water throughout the entire home – at every sink, bath, shower, and water-using appliance – and is priced at $1,699.95. Available for preorder throughout December, the Aquasource will begin shipping on or before January 2, 2013.
On the opposite spectrum, Multipure's Aquamini is a small, portable, and convenient drinking water system designed for travel or wherever space is limited. The Aquamini provides the same exceptional contaminant filtration as Multipure's Aquaversa drinking water system, and its small housing and compact size allows it to easily fit in a bag or luggage. Because it can be connected to most standard faucets within minutes, the Aquamini is perfect for vacations, business trips, hotel rooms, or school dormitories. The Aquamini is priced at $169.95, and will begin shipping in January 2013.
Multipure President Zachary Rice introduced these products at C30, and reiterates his belief in them as a natural progression of Multipure's product line. "For many years, Multipure has focused on point-of-use drinking water systems for use at the countertop or below the sink. They are our signature products, and they have served us well throughout our history. But, innovation cannot stand still, so earlier this year we introduced the wriggle Portable Filtered Water Bottle to provide a handheld, on-the-go drinking water solution, and now, it just makes sense for us to release the Aquasource whole house system and Aquamini compact travel system to fulfill our customers' other water filtration needs."
Multipure's Assistant Vice President of Marketing, Kenton Jones, recognizes the demand for these new products. "What Multipure has done with the Aquamini is give you the same high level of performance as our Aquaversa and our industry-leading water filters, in a compact form factor. We're offering a drinking water system that you can throw in your bag and take with you on vacation, without compromising any of its filtration ability. With the Aquasource, the difficulty lies in providing high filtration performance without significantly affecting the water flow to the house. Multipure spent well over a year in the research and development of the Aquasource, and its release demonstrates our confidence that we've achieved that balance."
Multipure's Aquasource and Aquamini are available for purchase from your local Multipure Independent Distributor or online at http://www.multipure.com/store/index.html. For additional information, contact Vice President of Network Marketing, Regina M. Noriega, at rnoriega@multipure.com.
Founded in 1970, Multipure is an industry leader in the manufacture and distribution of drinking water systems and compressed solid carbon block filters. Headquartered in Las Vegas, Nevada, Multipure employs over 200 people, and is committed to being an eco-friendly company that provides the people of the world with the best quality drinking water at an affordable price. Multipure is a member of the Water Quality Association, the Las Vegas Chamber of Commerce, and the Better Business Bureau.