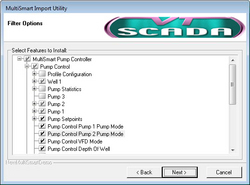 We were very impressed with the way that Trihedral has implemented this feature
Boca Raton, FL, and Nova Scotia, Canada (PRWEB) January 30, 2009
VTScada from Trihedral will shortly include an innovative "Add Site" feature for the MultiSmart Pump Station Manager from MultiTrode. The MultiSmart product has over 400 tags per site, providing unparalleled data for water and wastewater utilities for their lift stations. The new VTScada functionality automates the process of adding a new site and making all of this data available to the utility.
"We were very impressed with the way that Trihedral has implemented this feature," said Steve Carson, Group Marketing Manager of MultiTrode. "VTScada remotely downloads the configuration file from the MultiSmart RTU and then presents the user with a tick box option to choose what level of functionality they want from the unit. It makes it extremely easy for an end-user to set up a new site.
"The SCADA system is fully operational and never off-line, even during expansion of the system. This is a key feature of VTScada and a prime concern of utilities in order to maintain a watchful eye on operations at all times. The added sites can be tested within one server to confirm operations and then the validated configuration automatically propagated to all hot back-up servers and clients in real-time. Servers which are off-line are also undated automatically with the new system configuration upon restart. We were very keen to work with Trihedral because they have been winning a lot of customers in water and wastewater over to VTScada, and their technology and their engineering capability are both top class."
Barry Baker, Vice President of Trihedral, said, "We were very interested in fully integrating the MultiSmart pump station manager into VTScada because we could see the appeal of this new generation of technology to the water industry and we had many customers who were starting to use it. The open architecture of MultiSmart made our integration very easy.
"The configuration file is XML which lends itself to automation, and we used DNP3 file transfer for the remote download. In recognition that utilities commonly employ radios with limited bandwidth, the file is compressed and decoded on the fly by both the Multismart RTU and VTScada. The end-result in a small transmission message that does not interfere with site polling. As a option, the auto-import unity has been expanded to included support of Multismart units which use Modbus protocol and addressing.
The new VTS upgrade will be released shortly after the v9.0 release which is due at the end of January. This VTS version will include support for 64bit applications, enhancing the capability of handling over a million tags upon a single VTS server application. Thus the 400 tags of feature rich hardware such as Multismart is easily managed.
About MultiTrode
MultiTrode, founded in 1986, is a specialist in pump station technology for water and wastewater utilities around the world. The company has offices in the USA, UK and Australia.
About VTScada:
VTScada was designed to specifically meet the needs of the Water & Wastewater industries. It is a core component within the VTS product, which has a rich 22+ year history of thousands of applications on 6 continents.
About Trihedral:
Trihedral, founded in 1986, prides itself in a being the supplier of many mission-critical Scada systems in use worldwide. The company has offices in Canada, UK and the USA.
# # #