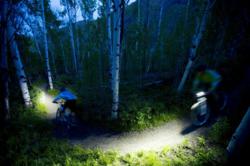 The range of activities you can perform at night with these lights is only limited by imagination.
(PRWEB) May 10, 2011
At a recent equipment testing session, for the Bozeman, Montana based Heart Rate Watch Company, a mountain biker went flying down a single track trail at speeds in excess of 35 miles per hour. This would not be so unusual in many parts of North America except that the time is 11 p.m. and it is pitch black outside.
Heart Rate Watch Company's test team, is a USA Cycling sanctioned team that the company sponsors, and they first encountered the Light and Motion bike lights, the Seca Series, at 24 hour endurance events, like the 24 Hours of Moab. It was hard to let their curiosity stop there however, because if they could be used for events as fast as cycling in total darkness, then what about everything else you can do outdoors at night?
TESTING THE LIGHTS AT VARIOUS ACTIVITIES
The team tried a little Stella 300, which puts out 300 lumens, fly fishing during a caddis hatch and kept fishing for another 2 hours after everyone else had quit and gone home. The fishing was quite good and we could still see our fly, giving us the ability to set the hook in total darkness, long after others had quit and gone home.
Next, some of our skiers on the test team took a Seca 1400 and mounted it to a headband to go back country skiing on Mount Ellis outside of Bozeman, Montana at night. Heart Rate Watch Company founder Rusty Squire suggested the strobe function for the climb up, which took two hours, so we could conserve battery. Our test team then proceeded to take a powder run down New World Gulch in total darkness, so skiing checked out great.
"These lights are the best we have ever tested for everything outdoors," says Rusty Squire, President of the Heart Rate Watch Company, a national online fitness retailer. Squire continues, "Skiing, fishing, cycling, rock climbing, rafting, kayaking, running and more, there are very few outdoor sports that you could not do at night with these lights".
EXPLORING THE VARIOUS MODELS
Serious mountain bike endurance racers tend to use the Light and Motion Seca 1400 mounted on their handlebars, with the Stella 300 mounted to their helmets, in what is called the 'race bundle.' With this configuration you have a high intensity forward beam with helmet mounted, line of sight lighting for scoping the trail ahead in situations like switchbacks.
Other sports, not done at high speeds, can probably get away with a light like the Stella 300, which comes with a 3 cell rechargeable lithium-ion battery.
"The nice thing about these lights is that they can attach to handlebars, headbands and helmets, ultimately making them versatile for numerous outdoor sports," says Squire. He continues, "In fact, these lights, used in combination with small HD film cameras, make the ideal situation for night filming in areas where you can't bring electrical power."
Light and Motion also makes a series of commuter bike lights called the Vis 360 and the Vis 180. The Vis 360 features a front light that is helmet mounted, along with a rear facing red light that makes sure cars approaching from the backside see you first. The Vis 180 is a bright red light mounted on a bike's seat post that puts most car tail lights to shame. For bicycle commuting this system gives you well optimized visibility.
The Light and Motion Seca 700 is a slightly toned down, less expensive, version of the Seca 1400 light. Just like the Seca 1400, they can be mounted on handlebars, headbands and helmets. They also feature a strobe and battery conservation mode that allows you to easily switch to high beam when the pace picks up.
A word of caution is in order: be careful using lights, like the Seca 1400, mounted to your handlebars on high beam riding around town because these lights are so bright they can blind oncoming traffic if not mounted properly. Of course, when it comes to something that may save your life, being easily identified is a whole lot better than not being seen.
CONCLUSIONS:
After much side-by-side testing Heart Rate Watch Company's test team concluded that there were no better lights for outdoor activities than Light and Motion. If you want to convince yourself, just click on the beam test to compare Light and Motion lights side-by-side with other lights by visiting here – Light and Motion Seca 1400 Beam Test.
###