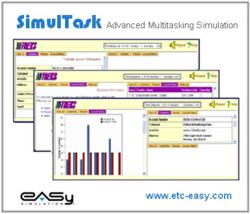 To really identify the best multitaskers, you have to actually see them in action. And that's what SimulTask lets you do.
Winter Park, FL (PRWEB) May 02, 2012
Finding employees with good skills is one thing. Finding employees who can perform those skills – simultaneously – is another. With Employment Technologies' new EASy Simulation – SimulTask, it's easy for employers to attract and hire top multitasking professionals.
EASy Simulation – SimulTask is an advanced multitasking simulation that quickly and accurately pinpoints which job candidates have the composure and skills to handle multiple tasks, multiple information sources, and multiple customer issues.
"We're excited to announce the release of SimulTask," explains Employment Technologies president Joseph Sefcik, "because it really stands apart from anything else on the market right now. What makes SimulTask unique is that it doesn't just focus on individual skills like a traditional employment test. Instead, it creates a virtual workplace where candidates use their skills to manage multiple tasks, clients, and accounts. To really identify the best multitaskers, you have to actually see them in action. And that's what SimulTask lets you do."
Using the most advanced simulation technology, SimulTask immerses candidates in the fast-paced role of sales and service consultant. Candidates handle a series of customer calls in rapid succession, requiring them to:

Maintain customer focus while researching customer issues
Quickly review and process multiple information sources
Filter out irrelevant information and zero in on most pertinent data
Interpret data in order to forecast future customer needs
Ensure customer satisfaction
"Initial response to the new simulation has been outstanding," states Joe LaTorre, Employment Technologies Director of Innovation. "And that's not a surprise, because this is a product clients have been asking for. SimulTask is specifically designed for jobs that require employees to manage complex information systems while maintaining conversations with clients."
"When we interact with great multitaskers," continues LaTorre, "they make an impression. We feel that they connect with us, understand our concerns, strive to find the right solutions, and keep our loyalty. SimulTask helps businesses find those people."
SimulTask simplifies the screening process and gives employers the flexibility of remote or on-site testing. SimulTask offers pricing models to fit every budget, ranging from simple per-simulation pricing to annual licenses with volume discounts.
For a free preview of EASy Simulation - SimulTask, contact an EASy Simulation representative at 866-919-0095 or visit http://www.etc-easy.com/_products/simultask/main.htm for additional information.
About Employment Technologies
Employment Technologies Corporation (ETC) is the pioneer and world's leading developer of employment simulations. Nationally recognized for quality and innovation, ETC's EASy Simulations continue to lead the industry in excellence and value. EASy Simulations are consistently rated Best in Class in independent reviews and are proven to increase hiring accuracy, reduce hiring time and costs, improve the applicant experience, decrease employee turnover, and increase productivity. For more information, visit http://www.etc-easy.com or call 866-919-0095.